Soul Cycle instructor creates fun environment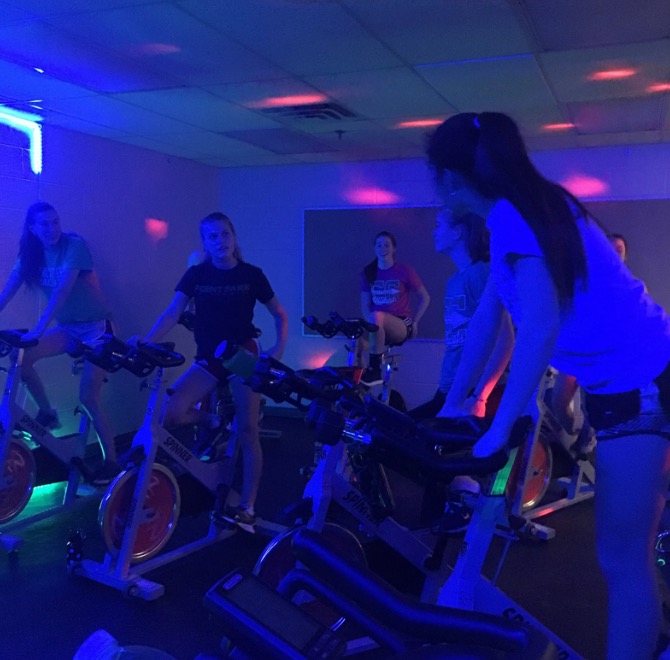 Julianna Szigeti, Guest Writer
March 1, 2019
Students in Soul Cycle believe that adviser Abigail Ferritto has incorporated many cool ideas into the club.
Soul Cycle is a cycling club that meets after school on Mondays(Tuesdays if there's no school Monday). It was started by English teacher Abigail Ferritto, who has been teaching for a total of six years because she thought it would be fun. She said,"I got certified in cycling and I wasn't able to make my hours work with teaching at a YMCA so I decided to start a club for school because I thought it would be fun and I really like making the playlists and workouts."
Ferritto has incorporated many ideas into Soul Cycle to make it more enjoyable. She said, "Some of the interesting ideas that I have incorporated into Soul Cycle include creating themed days. Something else that we do is we take a break toward the end of class. We do some arm workouts as well."
Many different class themes were created by Ferritto. She said, "Some of the themes that we did were Taylor Swift versus Beyonce, Halloween, Christmas. We did one class that was all songs about being strong."
Ferritto includes music into her cycling workouts because she believes it makes enjoyable. She said, "Including music into Soul Cycle makes it fun and makes it more like a choreographed dance than just a straight-up workout. So the beats are really the thing that guides the entire workout whether we are going really really fast or [ if we are] slowing it down with more resistance."
Ferritto plays a variety of music but she says that her favorite genre of music is Indie music. She said, "Overall, I like Indie music the best. I do a lot of EDM music, a lot of pop music and then I do a bit with remixes and sometimes a little bit of rap or hip hop [during Soul Cycle]."
In the future, Ferritto would like to do specialized training sessions. She said, "I would love if we would be able to do a few specialized training sessions with different teams. So maybe just the track sprinter could come one day and we could do a sprint workout or the soccer team can come or something like that."
Sophomore Valerie Sague agrees with Feritto's idea to have different teams come. She said, "It would be a good idea if the sprinters came. We could do like a hardcore sprinting class. Any sport could and we could do the arm stuff on the bike."
She also would like Ferritto to include some other types of exercises. She said, "I'd like it if we could do more CrossFit or interval training. I love how we do it now. We do arms for one song and we do dips and different stuff on the bike. It's like a balanced workout. You hit your abs, your back and your arms. "
As someone who loves working out, Ferritto is proud that students also enjoy Soul Cycle. She said, "I first and foremost love the workout as it is it's like my favorite thing to do. Then I also love seeing how much the people come to the class enjoy it and how much they get excited and anticipated and it's just a fun little club that we made."
Ferritto knows that students like Soul Cycling because students continue to go to her class. She said, "I know that they like the club because they keep coming back to class and then I had to start a sign up online because we have more members than we have bikes so we are full almost every week so I know that they like it. And they tell me they like it!"
Junior Christina Rufo decided to join the class because she wanted to exercise more, but she has found that it is also a lot of fun. She said, "I joined Soul Cycle because after not being able to workout for a really long time I want to try and be active, but also be in a fun environment. In the gym, it can be sort of boring and dull but in Soul Cycle we have lights, we have music, and everyone is working together.
Sague joined because she wants to do a triathlon in the summer. She also found that Ferritto's cycling class is very enjoyable. She said, "The part that I like best is the fact that is more of a fun workout than something I would dread to do. The music is really fun to do the choreographed stuff too."
Rufo thinks that Feritto is doing a great job at getting the students to have an open mind. She said, "I think that she's really good at keeping everyone in an open mindset, an encouraging everyone to try their best. I think that she's doing everything in the best way. I don't think that she can make any major changes."