Talent Show performers prepare for annual show
Hang on for a minute...we're trying to find some more stories you might like.
Adviser's note: The following story was written before Friday's Talent Show.
Mackenzie Michaud, Grace Yoo, and Nate Muhlbach have been preparing for the annual Talent Show.
Senior Grace Yoo is one of the participants in the show. Yoo said, "In this year's Talent Show I will be performing one of my favorite poems titled Porcelain and Magic."
Yoo has done much preparation for her poem that she will be reciting. She said, "I have performed this poem at several open mics and many poetry slam competitions so I wouldn't necessarily call it preparing but rather performing. I would say around four months."
Furthermore, another senior Nate Muhlbach said, "I'm going to be playing guitar and singing for the show this year! I'm not 100% sure what song yet but I'm hoping to do 'Gravity' by John Mayer."
Whereas Yoo has been preparing for months, Muhlbach has taken a different route. He said, "I haven't been preparing as much because I am playing Shrek in 'Shrek the Musical' so all of my focus has been on that."
Another member of the talent show is Mackenzie Michaud, a junior. Michaud said, "For the Talent Show I'm doing a singing duet with my boyfriend, Adam Barrett."
Yoo, along with figuring out what she was going to be performing far in advance, always prepares quite frequently. She said, "I have performed this poem at least ten times, and have shared it personally with several friends and family. So I guess I 'prepare' pretty frequently."
According to Michaud, she has also been preparing for quite some time. She said, "[My boyfriend and I] have been preparing for like three months now."
Again, Michaud has known what she was singing for months in advance, but prepares on the daily. She said, "I practice on my own everyday. We practice together two or three times a week."
This isn't Yoo's first time being in the school's Talent Show and really seemed to enjoy it. Yoo said, "I had a ton of fun doing the Talent Show last year with all of the students in it, and really found it gratifying to share my talent with the Mayfield community."
However, according to Michaud, she has never showcased her skills, but is very excited to on Friday night. She said, "I've been singing since I was three and it's been my passion for a long time, and not many people know that I can sing, and I think it would be a great experience."
Yoo admitted has had to make some adjustments to her schedule due to the Talent Show. She said, "I am leaving bright and early the next Saturday morning after the talent show to visit a friend for her birthday in North Carolina. Originally I wanted to leave Friday but I realized I was already committed to the Talent Show so I had to book my flight for the day after."
Muhlbach has also made adjustments to his schedule. He said, "I had to cancel my shift at work to be at the practice but other that's it."
Michaud said she got a little more lucky because "for the rehearsals I had to miss basketball practice, but other than that my schedule didn't adjust."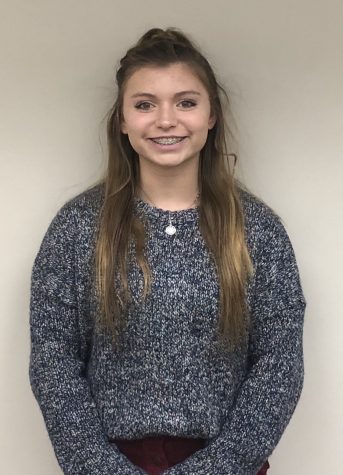 Becca Fritz, Staff Writer
Rebecca Fritz is a junior staff member of The Paw Print.

Fritz went to the Assumption of the Blessed Virgin Mary in Geneva up until 6th grade and transferred...