Opinion: 2019 Cleveland Indians better than you think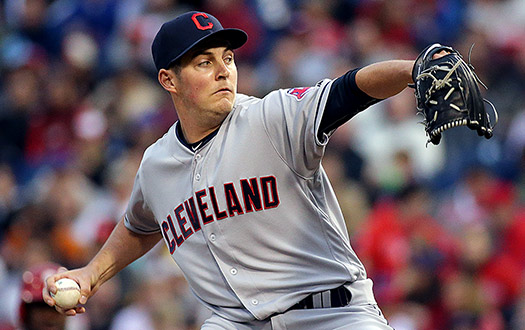 Jason Kocsis, Guest Writer
April 10, 2019
Hang on for a minute...we're trying to find some more stories you might like.
"The odds a .500 team wins 22 straight games is 1 in 4,194,304," said FiveThirtyEight.com.
When the 2017 Cleveland Indians accomplished this feat but still couldn't win a World Series, local fans were heartbroken. Now, baseball season is back, and believe it or not, the 2019 Indians will exceed expectations this MLB season. Players, coaches, fans, and even baseball reporters nationwide agree that this year's Indians team will surprisingly impress people, given their expectations.
Social Studies teacher Ryan Looman said his father was an Indians Season Ticket holder and grew up attending games with his dad at the old Cleveland Municipal Stadium. He plans to watch a successful team this year due to the Cleveland starting pitching staff. "I think we have enough depth there to where we can shut teams down to kind of overcome any offensive deficiencies we might have," he said.
A high powered pitching staff is a great weapon in baseball, so it is evident that the Indians come equipped readily. However, there is still skepticism from fans, but the more people doubt a team, the easier it is for the team to look better by achieving something that may not be all that impressive for many other ballclubs. This is the case with the Indians, so while people continue to forget what their club is capable of, the smallest of victories can turn into large ones.
Not to mention, the Indians already have six players in the MLB's Top 100 Players rankings done by MLB.com, so surely they possess the talent. Also, as Cleveland.com concluded, they have made pushes for acquiring baseball's top players like Bryce Harper at the trade deadline, further proving their seriousness for chasing greatness.
Similarly, each player keeps high goals for the teams. WKYC and Cleveland.com write about how Tribe players Tyler Naquin and Shane Bieber keep moving forward and expect much more from themselves at a production level than many do. In fact, Naquin said, "We're going to keep being great."
Behind the scenes, there are still plenty of remarks from common people feeding into the pessimism surrounding Cleveland baseball. With this the population represents doubt and hate that the players acknowledge and hear. "It fuels our fire," said Starting Pitcher Trevor Bauer in an interview with Cleveland.com.
But with low expectations in sports comes the magnification of minor success. For example, with the weakness of the Indians' division, the American League Central, it is almost a guarantee that the Indians make the playoffs through Major League Baseball's current bracketing format. All one team must do is top the other four teams in their division to play meaningful games throughout October.
Agreeing with this, Looman said, "In the Central [division], I think they're okay. [. . .] If they can get by Minnesota in the Central they'll be in good shape."
New additions to the team like Jake Bauers, Hanley Ramirez, Carlos Gonzalez, and the return of Carlos Santana really bolster the depth of the lineup, hitters one through nine. Mayfield student and avid Indians fan Kurt Specht said that with these acquisitions, the Indians added "stability to key positions."
Coming up among those guys are young players like Greg Allen who look to make an impact on the team. Allen said to Cleveland.com, "Our goal remains the same… win the World Series." To WKYC, Allen made another confident comment. He said that the Indians are "expecting more" than just making the playoffs in 2019," reminding fans not to worry.
Specht reiterates this point as he said the Indians attitude throughout their lineup is the perfect complement to their talent. "The Indians have elite pitchers [and] great core players with a winning mentality," he said.
Hopefully, with the continued positive mindsets in the clubhouse, players will work their hardest to achieve what many question their capability of. Just with the experiences they have accumulated in just the last three seasons, the 2019 Cleveland Indians are bound to make their city proud.
Therefore, given strength in the pitching area as well as an easy road to the postseason, the Indians' opportunity is actually better than ever. Maybe not for ending baseball's longest title drought, but for producing an October to remember and especially proving tons of people wrong.
Whether or not you have enjoyed baseball in the past, the Indians should be a fun team to watch, and I can't wait for the regular season to kick off on March 28th. I will be sure to attend many dollar dog nights at the ballpark, complete with firework displays to metaphorically represent the boom the Indians will make during their march to a fourth straight AL Central title. Lastly, as the All Star Game comes to town this July for the first time in over twenty years, Cleveland will be a hot topic this year around the MLB.
Fast forwarding through the beginning of the season, the Indians currently ride a five game winning streak after a sweep of the Toronto Blue Jays and a victorious series opener in Detroit versus the Tigers. They now sit on a 7-3 record.
But regarding the Indians team themselves, there is no better time for success than now. "The sky's the limit with this group," said Shane Bieber to Cleveland.com.