Texas Roadhouse serves affordable, tasty food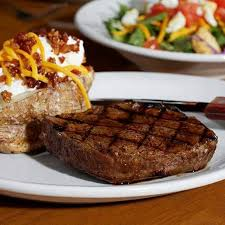 Walking into Texas Roadhouse, your experience will be filled with authentic, comforting and tasty food.
Right off the bat, the outside look of the restaurant looks appealing because it's colorful and is well kept. It also may draw people's attention and have them think 'this must be a great restaurant' because there are many cars in the parking lot.
When you walk into the facility, you are welcomed with smiling faces and the smell of freshly made food. The atmosphere's overall feels are inviting and warming. However, the Roadhouse has big barrels of peanuts that people may take as they please. Junior Lindsay Inmon has loved Texas Roadhouse ever since she was a little girl. She said, "I love the atmosphere of Texas Roadhouse; the only problem that people come across I feel like is the fact that there is always peanut dust and so many peanut shells everywhere."
Another junior, Alyssa Caspio, says that Texas Roadhouse is her favorite restaurant and enjoys going there with her family. Caspio said, "I think that [Texas Roadhouse] is a great place to go for a family night or any occasion really."
Another positive aspect to note is the decor and vibes of the restaurant. It is a country-style restaurant, so there are items on the wall such as a snake, fish, buffalo, and many pictures of country music artists. With that being said, it's only right that they play country music, which may be a downfall for people who don't particularly like country.
Although the music may set off the mood for some, the menu has plenty of options for everyone. The steak is one of the main dishes people crave.
Junior Emily Steffey has only been to the Roadhouse a few times but has had a great experience each time. She said, "The three or four times I did go, I obviously ordered the steak because that's what everyone recommended to me when I first went. Side-wise, I ordered green beans and applesauce."
The steak was cooked just how I ordered it, medium-well, and was not hard to chew, had no gristle, and was very flavorful. Instead of ordering the side of green beans and applesauce, I received the baked potato. It was steaming hot so the cheese and butter could melt with a burst of flavor in my mouth. Finally, the house salad had fresh greens, tomatoes, eggs, and cheese (I ordered Ranch as my dressing) and had the perfect combination of those items.
Although they're known for their steak, the $8.99 pulled pork sandwich is very tasty as well. The pork is tender and just falls apart in your mouth. Along with the texture being spot on, the temperature is also perfect. On top of that, the sweet barbeque sauce prevents the meat from being dry and adds a kick of flavor in there.
Time to talk about prices. Inmon said, "In my opinion, I think what they charge is fair for the amount of food that you're served along with getting the best complimentary rolls while you're waiting."
The meal I chose, 6 oz sirloin, is $9.99 The prices increase as the ounces of the steak get bigger, however, I agree with Inmon on the fact that the prices are fair for the quality of the food you order.
I would compare Texas Roadhouse to Outback Steakhouse or Longhorn. While all three businesses might be steak places, I believe Texas Roadhouse has the best tasting food, service, and atmosphere to be in.
Outback Steakhouse does not have hot food that melts in your mouth; in fact, it is usually cold. The same goes for Longhorn. Both do not have the comfort Texas Roadhouse gives people when they walk in.
The only thing I would have to criticize is how many peanut shells are always everywhere, I feel like someone should sweep them up once every hour so it doesn't get too bad and isn't tracked throughout the entire restaurant.
Finally, my overall rating of Texas Roadhouse is 10/10 steaks! Delicious!
Facts:
Texas Roadhouse
Address: 6095 Commerce Cir, Willoughby, OH 44094
Distance from MHS: About 6 miles
Phone number: 440-833-0570
Website: texasroadhouse.com
Prices: Moderate
Food type: American
Fun factd: Average about 5,000 guests a week
My rating: 10/10 stickers!