Junior continues Baker Mayfield obsession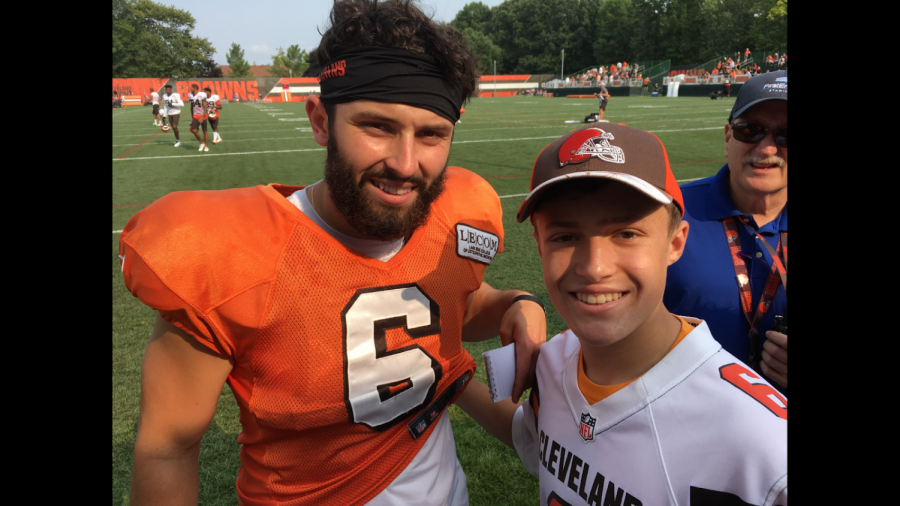 Jason Kocsis, Guest Writer
May 22, 2019
Before Baker Mayfield was the number one overall NFL draft pick, and starting quarterback for hometown team, Cleveland Browns, junior Mark DiFranco was obsessed with him and his success in football.
Equipped with jerseys, sweatshirts, and humorously, even some under-the-pants Baker Mayfield gear, DiFranco has gone to great lengths to also recreate a famous Mayfield photoshoot from the comfort of his own home.
First beginning to appreciate him in the NCAA 14 franchise of video games, he said, "[I] noticed his cool name and that's when I first started watching him."
DiFranco is thrilled to have Mayfield playing for Cleveland.
Along with admiring his pregame confidence as he said, "He was counted out pretty much from the start and just blocking out all the noise and playing in such an amazing way makes me like him so much."
Though the quarterback is commonly criticized for his swagger and cocky attitude, according to DiFranco, for as long as he can remember, the Browns were a joke, but then on that Thursday night, Baker broke onto the scene and just the feeling in the stadium that night was indescribable.
From being a live witness of Mayfield's NFL debut, to having personal photos with the man himself, DiFranco will now be attending Mayfield's summer camp at the high school with the opportunity to have a conversation with his idol.