American Hungarian Friends of Scouting recruits new leader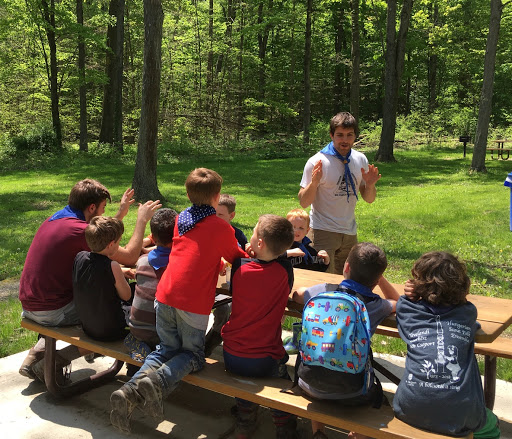 Julianna Szigeti, Guest Writer
May 26, 2019
The American Hungarian Friends of Scouting (AHFS) Görgey Arthur Troop 14 recently appointed Matthew Szigeti as their new troop leader.
AHFS is a non-profit organization that sponsors the Cleveland Hungarian scout troops. In order to be in the troop, a member has to be able to speak and understand the language.
Szigeti, 24, has been in scouts ever since he was 7 years old, and has been helping out in a leadership position ever since he was 14 years old.
The previous troop leader decided to step down and give someone else the opportunity to lead the troop. Szigeti said, "I happened to be a candidate who was both able, and more significantly in this case, willing to take over the responsibility."
Michael Horvath, the Principal of American Hungarian Friends of Scouting, believes Szigeti has an advantage over previous leaders because of his willingness to do the job. He said, "Not all previous leaders had their heart into it but did it because they felt obligated. Matthew has been an active scout and leader throughout his life without much interruption, if at all."
In order to be a troop leader, you not only have to already be a Scoutmaster and have experience in different roles, but also be approved by two different organizations. Szigeti said, "I've been a patrol leader, Cub Scout pack leader [and] an assistant troop leader. The American Hungarian Friends of Scouting has to approve, then the Hungarian Scout Association in Exteris (the global organization) has to approve."
Szigeti wants future generations to have the same opportunities that he had. He said, "I had a bunch of fun while scouting when I was younger: sleeping in tents, backpacking, cooking on fires, getting lost, getting rained on, playing outdoors, building lifelong friendships, that kind of thing. I want to make sure that the scout troop keeps on giving kids the opportunity to have fun outdoors in a healthy environment, while also practicing a second language and passing on traditions and culture."
As a troop leader, Szigeti's primary job will be planning and organization, but he will also have to handle disciplinary issues as well as being a representative for the troop. He said, "I'll also have to represent the troop at different events and occasionally coordinate with other Hungarian [organizations] or community organizations. Probably the biggest responsibility I'll have in this role is to set a good example for the scouts."
Due to the fact that Szigeti is relatively young and doesn't have children of his own, Horvath thinks that he might struggle to understand the parents' point of view. Horvath said, "A lot of experience and learning opportunities are still ahead of him. Not being married or having kids of his own yet may be a struggle to understand and relate to what parents of scouts go through in raising kids."
Louis Szigeti, the vice president of the American Hungarian Friends of Scouting believes that the small age gap between the new troop leader and his troop can actually give him an advantage over previous leaders. Louis said, "Matthew at 24 can better relate to and understand today's 6 to 16-year-olds that make up the troop, as well as the other young assistant troop leaders and patrol leaders who are vital for the smooth and efficient operation of a successful scout troop."
Szigeti is open to suggestions and ideas from other leaders, but he also has his own goal. Szigeti said, "I guess one thing that I do want to improve, though I'm not sure I'll be able to, is to clearly determine who is responsible for what in a timely manner, especially for bigger events and camps—I'd like to avoid unclear or poor communication so that we don't have to scramble for things."
Louis believes that there are many traits that are important for a troop leader to possess. He said, "I think that Matthew could learn, if he does not already, that being able to delegate is a critical trait for a highly successful leader, as well as excellent communication skills; which involve listening to and incorporating other people's ideas to ensure that everybody in the organization is working toward the same goal."
Szigeti believes that the troop is doing a good job right now and that he would like to keep that up, but also would like to have some type of community service. He said, "The one thing that would be nice would be if we could get some of the older scouts—let's say 12 or 13 years old and up—involved in some community outreach, but I'd want to do that in a way that is actually useful and doesn't just make us feel good about ourselves."
In the past couple of months, Szigeti has received a lot of words of encouragement. He said, "I was told to make sure to distribute the work up effectively and maintain a good balance between my personal life and all the scout stuff I have to do. The advice I'm giving myself is to keep things in perspective, occasionally reassess how things are going, and adjust accordingly."
Horvath believes that Szigeti can learn a lot from taking over this position. He said, "He can, and will, learn to be patient, understanding and forgiving in many aspects of working with his scouts and with their parents. No two people are alike and he will need to adapt to handle difficult situations on an individual level."
Szigeti spends his Friday nights at Scouts (during the school year) at the troop's headquarters on West 22nd Street in downtown Cleveland.