Cross country team runs towards districts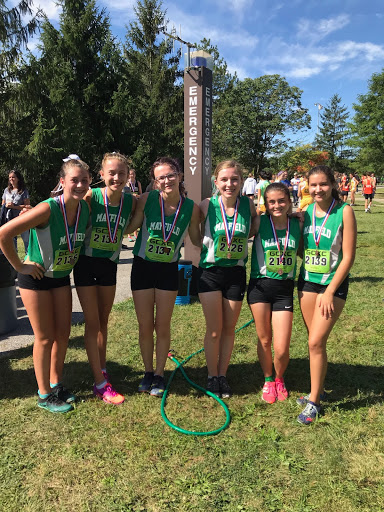 In the past two months, the MHS cross country team has been training for their conference meet at Kenston High School. Hopes are high that the team will advance to the district meet and continue all the way to states.
Sophomore Mykenna Roy has faith in the team's efforts. She said, "I hope the team gets at least one or two runners to make it to state meet this year."
Junior Paul Zito believes that the team is focusing more on consistency this season. He said, "I think the team's goal is to get everyone's time a lot closer so that we have better race results."
However, senior Olivia Culp thinks the team's goal this season may be simpler than that.  "I think our goal is to get faster, stronger, and closer as a team," Culp said.
For many of the runners, this season is also a chance to improve their own personal records and times.  "I hope to run a 5K under 26 minutes by October," said Roy
Similarly, Zito hopes to improve his time during races by breaking 20 minutes or close to it.
Culp, having just returned to running after undergoing hip surgery, plans to jump back into the season.  "I want to participate in all of the races, although it's turning out to be harder than I thought after being injured, however, it's still worth the effort," she said.
As the season moves forward, runners continue to focus on their race times and how they can better improve. However, the team also wants to grow in other ways as well. 
Roy said, "I hope to feel proud of myself and see how I've improved since the first day."
Zito wishes that he can notice a difference in his running ability this season. He said, "I hope to accomplish consistent race times that I'm proud of and can see improvement in."
Other runners aspire that this season can help them improve outside of their race times. For Culp, this season means connecting with her teammates. She said, "By the end of the season I want to have grown closer to my teammates and gotten stronger physically."
Team members also often feel that the sport is much more than practices and meets. For example, the Mayfield cross country team is highly focused on team bonding. According to Roy, she is most excited for all the pasta dinners on Fridays because that's the time where the team bonds the most.
Zito also thinks being a part of the team is one of the best aspects of the sport. He said, "I'm most excited about being with a cool team that feels good to be a part of and are supportive of each other, no matter what the race results are."
As seasons come and go, Culp believes the team becomes somewhat of a family.  She said, "I'm excited to be out in nature and spend time with the best teammates anyone could ask for. We have a really special group of people on the cross country team."
After several good races over the past two months, the team is spending this upcoming week to practice and prepare for their next meet at Woodridge, where they hope to improve their times.