Auxiliary coach flies solo after resignation of head flag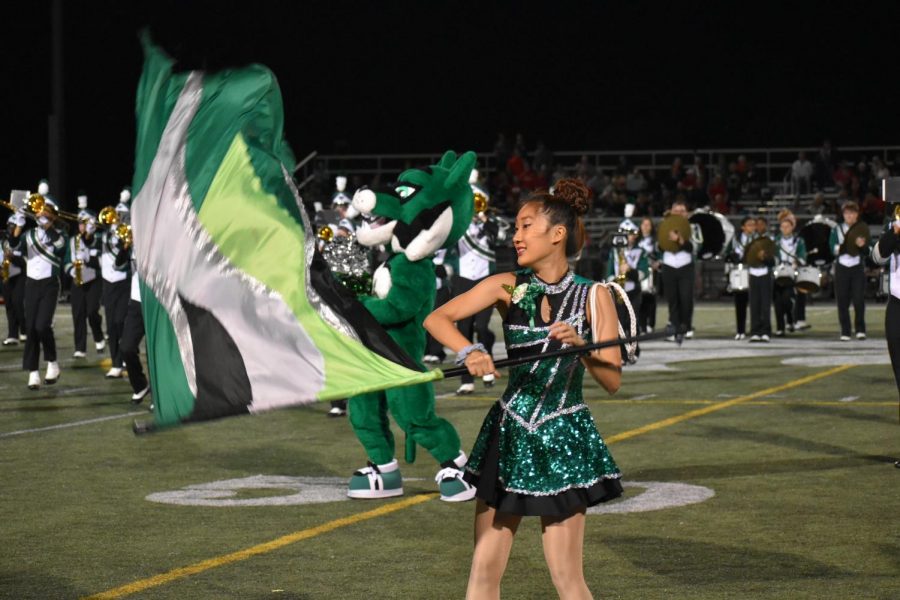 Alli Wank, Guest Writer
October 4, 2019
This year, long-time flag coach for the auxiliary team, Dr. Mary Bright, announced she was stepping down.
She was a rather large part of the team. "She was the flag coach," said official solo coach Daisha Levy.
Levy loved being on the team years prior. She said, "I love dancing, [and] I love the band so it's a passion of mine and I just wanted to be a part of school stuff outside of being a counselor."
She worked hard to become accustomed to flagging. "I learned it in like two days so that was the only challenge I really had," she said.
Taking on this role was a risk for her. She said, "I was a little concerned because I wasn't a flagger prior to this year, and I was like 'hm how is this going to work'…I kinda like, I don't know, did something different, stepped out of the box and I was like 'hey I'll take over both positions'."
Levy found that this change has even been a bit beneficial time-wise. She said, "I would say it's a little easier just because when you're working with someone else you have to coordinate dates and times and choreography and all of that with another person when as when it's just myself I have to focus on like just me and when I can do things."
Even when time is tight, she still finds time to finish the routines. She said, "I had to finish the choreography the morning of because of me moving and stuff, I probably wouldn't have been able to do that with Dr. Bright or someone else who was the flag coach."
The team has also taken notice of the adjustment in a positive way, "It seems like a lot of [the team is] like really open and honest with me like I know last year some of the flag girls were concerned with certain things that were happening but I wasn't aware of it, so it's nice to know that everyone is really open and honest with any concerns," said Levy.
The band's changes and adjustments have been the hardest part of the change for her, "It can become a little stressful because then sometimes it may seem as if I don't know what's going on but then when I look at the drill sheet it's like 'this is what it says' and they're like 'but we changed it' and I'm like 'it's okay' and I'm flexible and I'm willing to work through it but it sometimes can get stressful," she said.
The girls have also been heavily affected by this change. They had Dr. Bright as a coach for so long and really got to know her. Senior Jenna Loprich said, "She [Bright] was very put together and organized. If there was ever a problem she knew the exact way to fix it and what to do."
Along with Levy, Loprich was only a dancer for her high school career and this is her first time doing flag choreography on Friday nights. She found the switch to be quite simple with the help of the team. "I would say that incorporating flags into the team would be really easy, I guess, because everyone works together and helps each other figure it out," Loprich said.
Another senior, Sydney Carlson, finds the team to be more fun and energetic this year. Carlson said, "It is a more joyful experience! Everybody is more excited to be here, everybody is friendly towards each other, everybody is, you know, it's just like a more happy experience."
Carlson feels like her flagging experience has changed for the better since last year. She said, "Last year where the flags were the flags and we practically did nothing with our flags…and now it's more involved with both dance and flag."
The girls will perform in tonight's halftime show at the Mayfield-Madison varsity football game.