Interact club members help at tasty Hillcrest event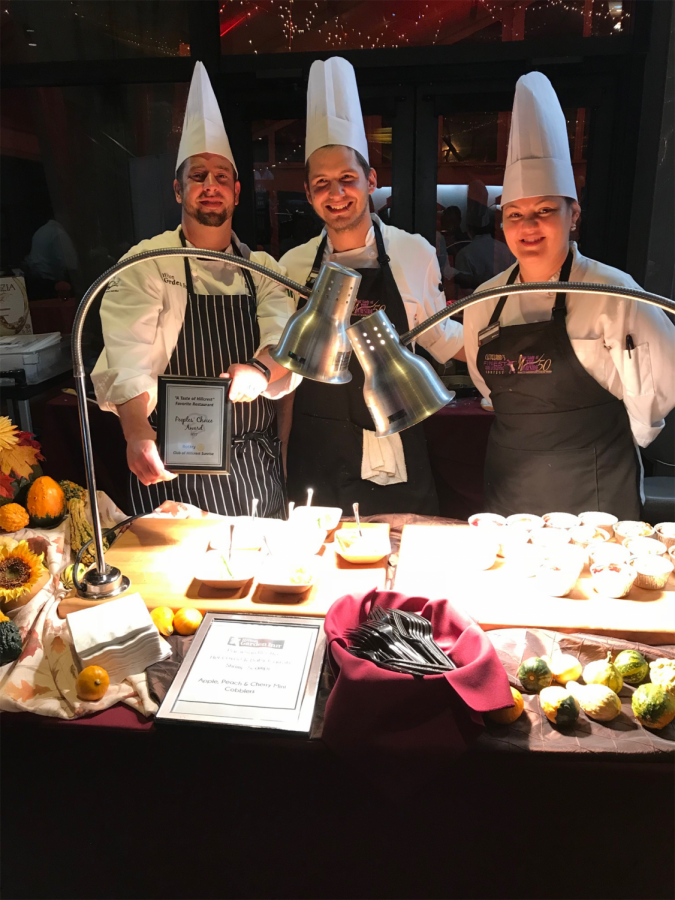 The Interact Club volunteered their help at the Taste of Hillcrest on Oct. 3, 2019.  
Jerry Turk, co-advisor of Interact Club, believes food and friends make the event so popular. "I have three reasons [ why it's a great event]: food, food, and food. It's not like [the members are] working, but they're having fun with their friends, bussing tables, and serving food," said Turk.
According to Turk, the Taste of Hillcrest is one of the most popular events of the year. "This is really popular because its fun and the kids get food. Ya it's at the top [of the list], its at the top two or three," he said.
President Tony Kleynburd also enjoys serving and socializing at the event.
Kleynburd said, "It's fun because there is like 30 other people around from your school and sometimes you just never talk to them, but there you can talk and socialize with them. You get to hang out with friends, and you can try all of the food there in your free shift, and it's really good."
Mark DiFranco, an Interact member, also places the event at the top of the list.
DiFranco said, "I think it was honestly my favorite event that I did with interact. You're busy the whole time, so it's not boring or anything, but then you also get a chance to try all of different food which I thought that was really cool."
Turk thinks that this event has always been at the highly attended level it is currently. "It's a formal event at Landerhaven, which is probably the premier venue for an event like this in the area. I don't know if it's getting better because it started great and it's just great," Turk said.
DiFranco admits that the Taste of Hillcrest makes him feel like there is a larger need for being professional.
"It felt like one of the more professional things we've done because we had to get all dressed up and it seemed like there were a lot of like, high profile people there. Even though everything we do at Interact is good it wasn't the same as raking leaves. It was something people will remember and a big event that everyone knows about," DiFranco said.
The food makes this event easy for Turk to fill the volunteer roles. He said, "This event fills easily because any event where you provide food for the kids is a huge, if not the best, motivator. The food there is great, they have desserts, they have all the pizzas, pastas, chicken, and burritos and whatever else."                                                          
Taste of Hillcrest is one of the main sources to complete the Interact goal of community service. Turk said, "This event is the main fundraiser for our parent company which is Rotary. They make a lot of money every year on this event which they donate all, or most of, to benefit their community, people in need, or however they feel that the community needs it."
Ultimately, the Taste of Hillcrest is meant to benefit the community.
Turk said, "Rotary started this event probably 20 or even 30 years ago. It began a fundraiser to get all of the local restaurants to donate food and to have the community come together to raise money."
Turks thinks Mayfield students do well in keeping the event running smoothly. Turk said, "Our kids at Mayfield, I'd put them against anyone because for the several years I've been doing this and every year I get the best feedback. They don't have to be asked to work. They just come through; they always do."
DiFranco also noticed an unexpected amount of positive feedback while doing the event. "I was actually kind of surprised because I didn't usually think anyone really says anything [to the members] but if we would take their empty plates or bring out other food everyone would say 'thank you'. Some people would stop up and say what a good job we were doing and like just thanks for making the night easier," he said.
To help at future Interact volunteer events, see adviser Katie McCartney or assistant adviser Jerry Turk.