Sophomore composes more than just music in band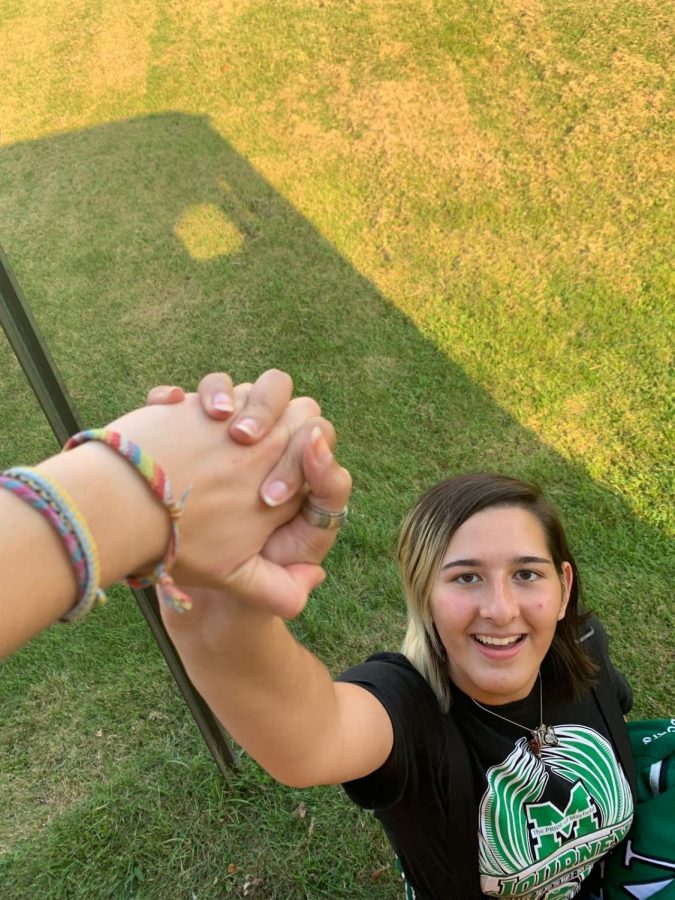 Band is music and so much more for sophomore Allie Collette, as it has changed her life over the past five years.
Collette is currently playing the quints and has tried many instruments since she first started playing in the band. She said, "I've been playing an instrument for about five or six years now: including percussion, so your drums, snare drum, base drum, whatever bells, a little bit of piano, that sort of deal. This is my second year of playing quints because I started last year, and have continued playing them this year."
Since beginning band in sixth grade, Collette has been impacted beyond just the music she plays.
She owes many of her friendships fro, years past to being apart of the band. She said, "I feel like within your sections it's kind of like a family, especially with percussion. The most meaningful friendships and relationships that I have are because of band and especially because of percussion."
The connections she has made helps fuels her passion for the band. "As much as I love music and playing my instrument, I think what I love the most is like the environment and the people who I get to spend time with," she said.
One of her close friends, Megan Linsky, acknowledges band for their friendship with people like Collette. "It gave me a class that I could spend time with her, and then football games practice. I just got to see her more, so I kinda got to know her a lot better," Linsky said. 
Collette realizes that her success isn't just from her own doing, but mainly from the help she has received along the way.
The sophomore credits her instructors for helping her to learn how to play her instruments. She said, "[I've] had a lot of good teacher[s]; I love Mr. Treiber and Mr. Palermo. When I first started learning I'd say the big part of it was my drum instructor who I went to and took lessons from and then everything was just built upon through the years and definately more so from band in high school now."
Another member of band, senior Harrison Pallant, can see how the teaching has paid off. He said, "Allie has come a long way since her freshman year working to try and get better at quints."
Although she cites her friendships as her favorite part of band, it all started with her love for music. "I love listening to music and I love playing music; music has always kind of helped me relax and help me focus when I'm trying to do stuff. It's really nice because you get what you enjoy and it's a really good experience to have," she said.
Collette's friends like Linsky can sense her passion for band. She said, "I think Allie really enjoys band because she always comes to band smiling and everything like that. She really enjoys playing the quints and she loves band."
Collette loves music where she is willing to work hard for success. "It's a lot of work playing them [the quints] because they're so heavy and they're time consuming since they're a big part of the band and percussion, but I really enjoy them," Collette said. 
Her bandmates can testify to her hard work. "She works hard and tries to get better everyday," Pallant said.
Her desire to succeed in band has even offered her a chance to make history. Collette was the first freshman girl to ever play quints when she started last year but she doesn't pay it much mind. She said, "I never really thought about it when I first wanted to do quints. The reason I wanted to do quints is because I thought they were cool and fun to play." 
Collette can even remember the time in elementary school when her passion's all clicked. She said, "I think a big moment for me was when I was in Elementary School and the High School band went to play at all of the Elementary Schools, I was so amazed by it. I loved the drums so much that I decided I wanted to learn and I knew that I wanted to join percussion and I don't regret it. That's for sure cause I mean, I love music."