School officer spreads his positivity, helpfulness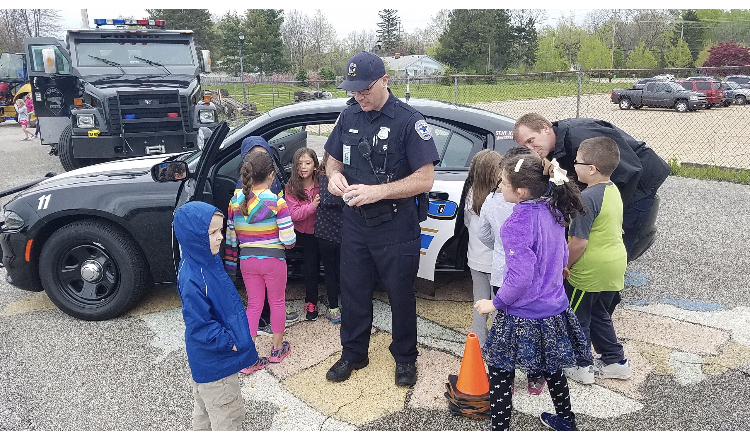 School resource officer Stuart Galicz works to spread kindness and positivity to everyone he meets.
For many years, Galicz has used the holidays as a time to volunteer and help out the less fortunate. He said, "The church that I volunteer at is United Methodist Church in downtown Willoughby."
Galicz believes his love for volunteer work has shaped who he is as a person. He said, "To me, giving back to people without expecting recognition or things in return or recognition, that's how it works for me. I give back because it makes me feel like I've accomplished something as a person and hopefully I've done something right to make them feel good about themselves, knowing that there are people out there who do care."
The Mayfield Village patrolman credits his mother who taught him this message at a very young age.  He said of his mom, "She just raised me right: 'do unto others as you would want others to do unto you.'"
Not only has Galicz spreads his kindness and positivity through volunteer work but he also offers it to many students within the high school. He said, "I try to treat everybody equal. I know sometimes it doesn't always happen, but obviously, I invite kids into my office, I have an open-door policy, I have an open conversation policy. Anything kids want to talk about any questions, anything to do with law enforcement, anything to do with being an adult or my opinion, I just lay it on straight."
Junior Nora Jraik is one of the many kids to be impacted by Galicz's hospitality. She said, "I don't feel like I'm talking to someone who's judging me or has their own opinions about me before even hearing me out. So when I started talking to him, he gave me stories about himself and made me feel like I could trust him to open up about my family issues."
With his numerous interactions with kids, Galicz says he has learned many things from them too. He said, "Like I would hope kids learn from me, [and] I learn from you guys too. Every generation, every kid, every group, every clique has their own thing. I listen to them and by doing that it helps me understand, and I hope it helps you understand me."
Physical education teacher R.J. Paglio says he sees the impact Galicz has on the community as well as himself. 
"You can tell that Officer Stuart has a great rapport with the kids. You know a lot of kids when you see them in the hallway say Hi to him, there in his office hanging out with him, talking to him and I think anytime you have that kind of relationship between the police officers in the community its a benefit to everyone," he said.
Jraik says she has an open relationship with Galicz because he's someone she can talk to. She said, "He tells me I've come a long way, and it's true; I have. When I don't feel happy, or if I have a bad morning, I always go and talk to him with my friend, and we just laugh and make fun of the situation. He's just an overall great person."
Paglio admires the patience that Galicz possesses while others struggle. " I think in dealing with teenagers he doesn't always get to see the good side of kids. He shows great patience when he's dealing with what he's got to deal with," he said.