Teacher uplifts students with therapy dog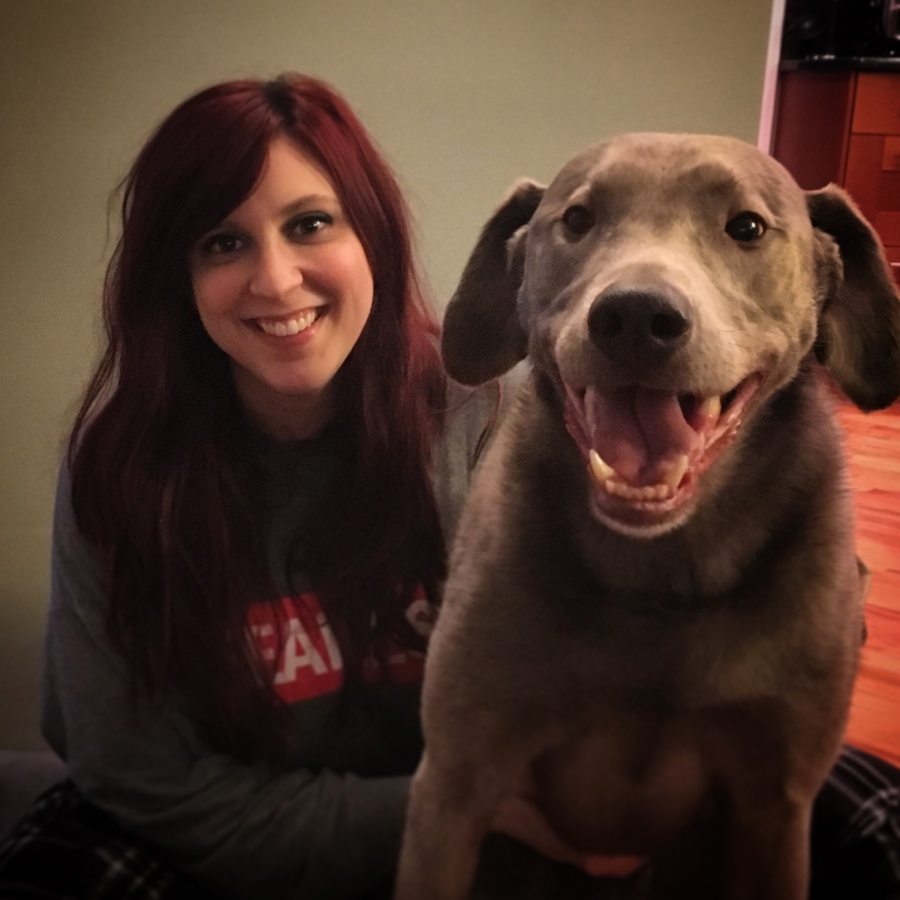 High school teacher Brittany Pumphrey has trained her dog, Bill, to become a licensed therapy dog. 
Pumphrey's decision to bring Bill into school has positively impacted her work environment. She said, "Often times, it's hard to watch students struggle, and Bill makes them feel better, which makes my job better, as well.  I've also had the opportunity to meet many students in the building that I don't have in class because of Bill."
Not only has Pumphrey been impacted herself, but many of her students have benefited from the presence of the therapy dog. She said, "Mayfield does a great job of focusing on the whole student, while emphasizing social and emotional growth and skills. Bill helps develop those skills in all students, especially those that struggle with that skill set."
Pumphrey's husband and Bill's co-owner, Kevin Niemczura, agrees with his wife on Bill's positive energy within the high school. He said, "Multiple students [and staff members] have expressed how Bill brightens their day and can really help lower anxiety. He calms the students down and quite simply puts a smile on their faces."
One of Pumphrey's students, Sophia Woods, has had many encounters with Bill over the years. She said, "Bill makes the students and Pumphrey a lot more eager to learn. Everyone is just in a better mood when he is around." 
Pumphrey has received nothing but positive feedback. She said, "Students have told me that they have been having a terrible day, and then they see Bill, and it makes their day.  That's super rewarding to hear and to know that students enjoy Bill's visits so much."
However, none of this came as a surprise to Pumphey, since she always knew Bill was the right dog for the job. She said, "Bill has a great temperament for therapy. He loves people, and just wants to be loved. He is super gregarious and calm."
Pumphrey was required to train alongside Bill to become certified. According to Pumphrey, she had to take a handler test through Pet Partners (a nationally recognized therapy animal organization), to become certified myself, as well as a Team Evaluation with Bill.
Pumphrey completed rigorous tests in many different environments with her dog.
She said, "The Team Evaluation consisted of  a skills test that had 12 parts to it, as well as an aptitude test, that had 9 different components, some multi-part. The exercises in the Team Evaluation are designed to simulate therapy environments; being handled/petted by strangers, sometimes even multiple people at once, being tolerant of environmental disturbances, ignoring food or other tempting items, navigating through a crowd, and positive interactions."
However, Pumphrey was determined and persisted through the training. She said, "We trained for the Team Evaluation for a few months, and the actual evaluation took about an hour to complete." 
Niemczura believes that the training paid off. He said of Bill, "He is very well-behaved and is able to cope with the loud and hectic high school environment very well."
More positive feedback came from Woods. She said, "Bill listens to everybody and is very well behaved during lessons. He is also very friendly and loves when people pet him, which makes the students happier."
After completing this process, Pumphrey could not be more proud of Bill and the work he has done in the classroom.
She said, "Students today [and adults] have so many pressures and are pulled in so many directions, that the calming and stress reduction effects of a therapy dog are at times invaluable. I think Bill being in the building has nothing but positive effects. It's a win all around."