Ohio band grows fan-base from passion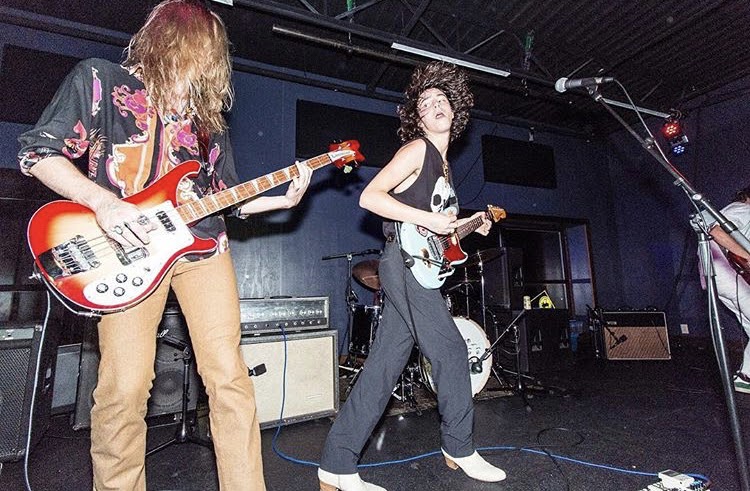 Radattack, a band based in Columbus, has built a name for themselves throughout Ohio and learned to adjust to the rock lifestyle.  
The band has a unique new genre to offer listeners. "I'd call it rock n' roll muscle pop, it's lean and mean," said lead vocalist and guitarist, Henry Velour. 
The guys love the fans they have gotten to interact with. They set a chill atmoshpere, allowing fans to feel un-intimidated. 
Velour said, "It's a lot of different types of people. We love them. They are all extremely cool. It's almost a conversation starter, people feel more inclined to come up to you and say 'what's up?' it's like you have a new friend you know, whatever state you're in; they're awesome."
This past year they have played some big festivals throughout Ohio and had to adjust to the setting and take in the perks. "Playing on festival stages is a whole different base from clubs or whatever. It's a lot more of a process, and there's also some really good food there," he said. 
They feel that playing at these locations has not changed them much. He said,  "It's just a thirty-minute piece of your life where you can expose yourself to so many more people, but you know the next day it's just whatever. I don't think it really changed anything other than it being a bigger stage, plus a little more street-cred."
Photographer for the group, Liza Cooper, has been working with them from day one and noticed their growth and evolution. "I have been watching Rad since their first few practices, first show, and I go with them everywhere. Through everything, their music just keeps getting tighter. I have seen their stage performance explode," she said. 
She has stuck with them for the fun and wild energy they give their audiences. She said, "I have always loved their high energy and felt that we are a good match."
She only has good things to say about her time with them. "My experience with Rad has been awesome. Creating images for them has been so fun; we flow so well together at this point," said Cooper. 
They have gotten to open for many artists, even some of their own favorites. Velour said, "[Our biggest achievement was] when we opened for Albert Hammond Jr. [of The Strokes]. That was a surreal, crazy show [because] we love The Strokes."
Sophomore Kelsey Blanchard has experienced one of their performances first hand. She said, "I remember having a lot of fun."
Playing at their usual small venues has taken its toll on the equipment, though.
Drummer Izzi Salvador said, "Yeah equipment breaking is common and all that because people jump around so much at these shows. Don't get me wrong, that's great and I encourage that, but it just comes with the fact that our stuff gets stomped out." 
People around their hometown happen to know the band quite well though. "We're definitely more locally famous. My waiter last night knew us, so that was cool [and] he gave us our hot dogs for free," said Velour.
They are still working on getting their name out there, but that is not what they wanted from starting the band. "It's just about the journey. That really isn't the end goal [getting famous] it's just something that happens along the way of developing your art," Velour said.  
Blanchard believes the band could hit it big. She said, "It's just a matter of trying hard enough and [putting in] effort."
The band has some advice from their experiences for other bands just starting out. They believe these are important to keep in mind in the beginning. 
Velour said, "Songwriting is a muscle. You need to exercise it, play out, and practice as much as possible. Always think artistically and not in terms of physical things. Just always think more about the art." 
Velour has some high hopes for the upcoming year. According to him, there will be a lot of new music, a lot of new shows, and some new ideas.
Readers can catch Radattack as they set out on a mid western tour from late December to early  January, or keep in touch through their Instagram (@radattack) and Twitter (@radattack).