Graduating seniors can earn AP Capstone diploma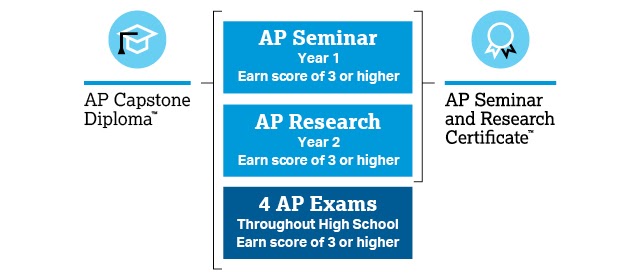 AP Seminar and AP Research are part of the AP Capstone curriculum which allows students to get an AP Capstone diploma if they pass both exams.
John Sullivan, the AP Seminar teacher, believes that students who take his course will learn multiple skills in order to better themselves as a writer and public speaker. He said, "AP Seminar will build students' ability to research a given topic and write about it in a formative, argumentative way. Additionally the class asks the students to do argumentative presentations individually and with a team."
Sullivan believes that many students think that all the class does is Socratic Seminars due to the name of the class, but this is a myth. "We don't just sit around doing Socratic Seminars all the time. I don't think we've done one," said Sullivan.
Lacy Long-Goldberg, the teacher for AP Research, feels that her class is extremely beneficial for building skills that students otherwise wouldn't learn. She said, "The class teaches research skills that college professors are just going to assume that their students have and many students don't. We've learned a lot about using databases and tailoring sources and what is a good resource, finding peer-reviewed sources."
Sullivan believes that as challenges arise in the classroom, one has to adjust teaching methods. Sullivan said, "This class has forced me as a teacher to let students take control of their learning and dealing with the pitfalls that he or she may have in order for them to be successful."
Senior Ben Kloppman has taken both classes and thinks they've helped him build important skills. He said, "Seminar really teaches you how to properly speak in front of audiences and cater your speeches to the audience in order to engage with them, so that was a really important skill for me in actually learning how to speak to people even in a general sense."
Teaching styles sometimes change with courses like this, according to Long-Goldberg. "With AP Research it really has to be a lot more personalized to the students because their research questions, their approaches to the research, [and] the methods they're using [are] all dependent on the individual question that they have generated," she said.
Senior Elizabeth (EB) Fluharty has taken AP Seminar and is currently taking AP Research. Fluharty said, "AP Seminar really taught me how to do professional presentations and professional speeches because I'm probably going to have to do that in college with people I don't know. Then [AP] Research, I think, will help me overall because I learned how to research and how to structure papers with evidence I get from other sources."
Sullivan thinks that all classes have their ups and downs for both the students and teacher, and AP Seminar is no different. Sullivan said, "Students certainly struggle with time management. I think students are not necessarily used to collaboratively working with one another and that's a surprise to me. Additionally, I think students aren't used to doing so much research."
Long-Goldberg believes time management is a necessary skill for all parts of one's life and AP Seminar and Research help build those skills. Long-Goldberg said, "The time management in terms of there's a lot to do students can struggle with so the students need to have a clear vision of what needs to be accomplished and when so that skill of figuring that out and being organized."
Both Long-Goldberg and Sullivan as well as the students maintain the idea that even though there can be difficulties in conquering a new class the benefits are apparent for the students. Kloppman said, "In seminar, every time you got up in front of people and you felt yourself improving from the last time you did a speech is really rewarding. In research, every time you finish a task, it's really rewarding because it's one more step to finishing the paper at the end of the year."
Fluharty finds it satisfying to complete the tasks at hand for both AP Seminar and AP Research. She said, "Just the feeling of doing something and accomplishing it [feel goods], especially in AP Seminar because in AP Research we just have the one big thing; but in AP Seminar, we do a lot of large group projects so having the satisfaction of completing it after is really nice."
Long-Goldberg feels that many soft skills are built from these classes as well. Long-Goldberg said, "I've seen them develop skills like emailing professional and reaching out to experts for assistant so I see those kind of soft skills of communication, the email skills, being willing to talk to someone that you don't know which can be really hard for teenagers."
AP Research students tackle a research paper for nine months which can be daunting for students according to Long-Goldberg. She said, "You are going to see once you get into the class that it's much more manageable than it might seem when you think about it and are letting your mind wander about all the 'what ifs.' I promise that we'll get through it."