Key Club warms hearts at hospice taco dinner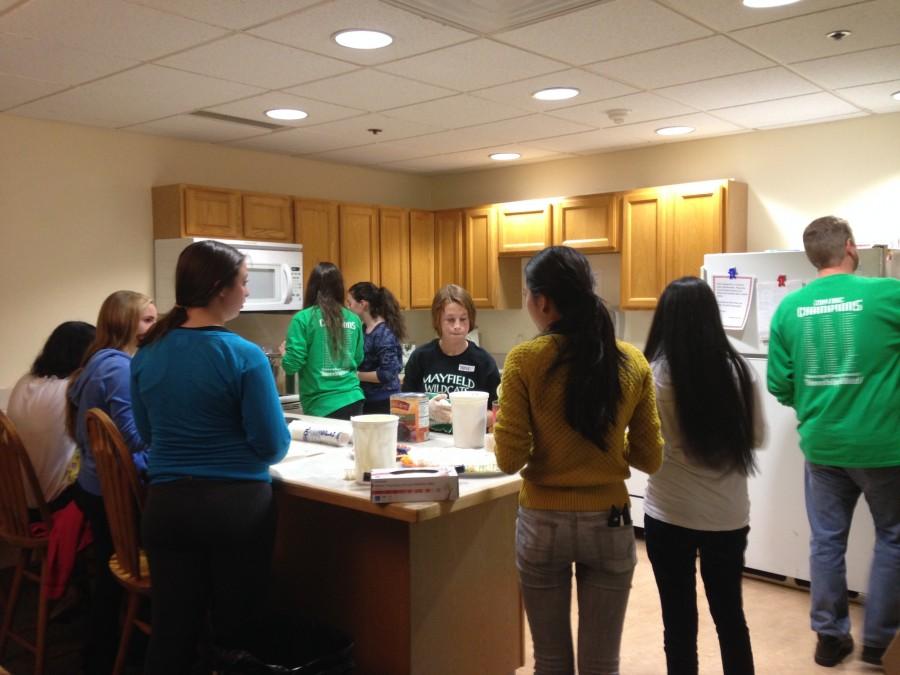 On the second Friday of November, 17 Mayfield Key Club students dedicated their evening to serving the residents of the Hospice of Western Reserve, melting the icy weather with a warm taco dinner.
Hospice is a monthly community service event that Key Club hosts, in which student volunteers of all grades prepare and serve a warm dinner to the residents of the Hospice facility. Usually, they serve taco salads, which is a rare menu for the residents. Advisor Jerry Turk proudly said, "We're popular here—the tacos are a hit." Indeed, a large crowd of residents, friends, and family formed a long line to have a taste of the taco salad.
The kitchen was busy with the excited students. They were responsible for preparing the dinner by 6 pm, pushing them to work rapidly. Thus, the volunteers endured the streaks of tears induced by intense onion dicing, and also overcame the difficulty of using the facility's archaic can opener with sheer force. The kitchen emanated with laughter from beginning to finish.
One piano player also attends the event to provide musical entertainment throughout the dinner as well. This time, junior Gopal Mandel took the job and brought an inviting and cheery atmosphere to the dinner, playing songs such as "The Pink Panther", "Fur Elise," and "Radioactive" by Imagine Dragons.
Moreover, the dinner showcased a special guest— Nancy McCracken's dog, which is a certified therapy dog. He added to the warmth by bringing smiles to many faces.
At the end of the dinner, Michelle, the student volunteer coordinator of the Hospice in Euclid, thanked the group and remarked, "It may be a small thing for you guys, but it's a huge deal for everyone here."
Many of the members individually came into the kitchen to thank the students for the dinner, as well. "It's a peace of mind for them," Michelle added.
Key Club continues to serve the community in many ways throughout the year, and plans to have their next Hospice visit in early December. If you would like to participate, contact Mr. Turk or Ms. Jennifer Stevenson, or simply visit their website at https://sites.google.com/site/mayfieldkeyclub15/.