Senior class officers prepare for graduation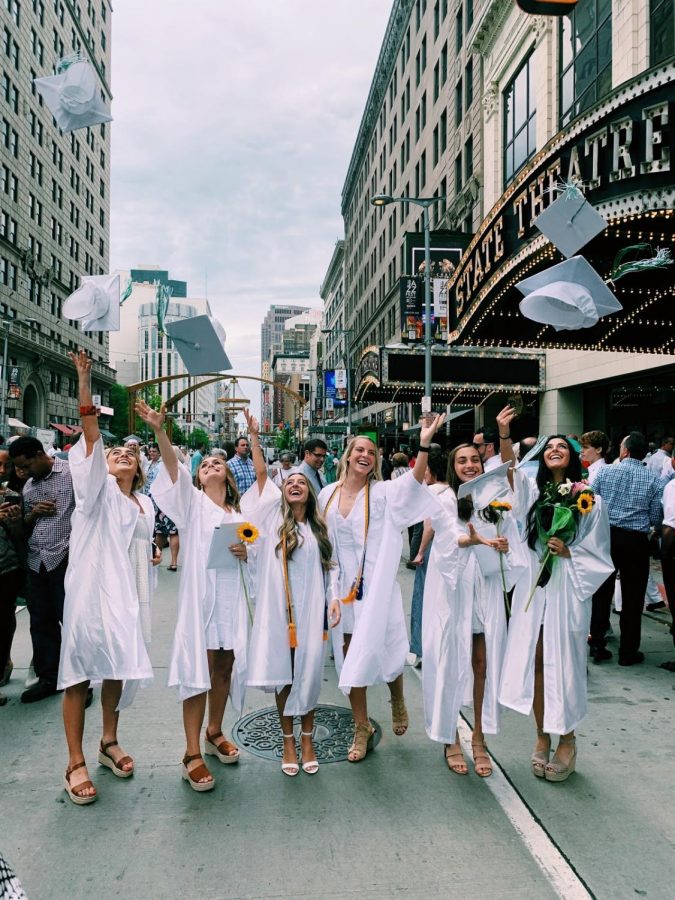 Katelyn Green, Guest Writer
March 8, 2020
Senior class officers and advisers are finishing up graduation preparations for this coming May.
Melissa Fini-Sanson is co-adviser with Chris Torda, and they work with the senior class officers to tackle graduation responsibilities.
Maddie Sentle, Danielle Silver, Marion Catalano, Claudia Casey, Julia Arrietta, Allison Laws, and Catherine Rock are all senior class officers. Sanson said, "They all do the rallying of students to get students to meet their deadlines and stay informed. Suchi Patel is the senior class president and takes charge of the speech at graduation."
Mayfield High School has a list of traditions for graduation the class officers have to choose from. "They also have to figure out the flowers and theme and color," Sanson said. 
Maddie Sentle, a senior class officer talks about the stressful decision making taking place. Sentle said, "We have to pick the class color, the flowers, our quote and the senior class song. We pick these things based off of the idea other students present to us and then we all narrow down the choices and make the final decision."
Sanson believes some things are stressful leading up to graduation. "Getting kids their cap and gown orders, making sure that everyone has paid, and making sure we communicate to the whole senior class about what their responsibilities and obligations are is probably the most stressful part of it all," she said. 
While Sanson takes the time to make sure kids are ready to go, the preparation doesn't always go as planned. She said, "Almost every year the day of graduation some kids don't have their tassels or hats or remember they don't even have a gown."
Graduation rehearsal also causes confusion for the students and the advisers "My least favorite part is the graduation rehearsal. I have to be there and I don't like it because I don't like missing class and also the organization piece which is all confusing," said Sanson.
Senior class president Suchi Patel is preparing the graduation speech. Patel said, "I have a position to really close off and honestly say whatever I feel I need to about our futures. I don't know where to start, and I want to make sure it is really impactful. So in that sense, I am super stressed but excited at the same time."
Patel wants to focus on the speech and make sure she gets across her main message. "I want to tell our class to stay motivated and not to give up because we all have journeys we are destined to follow. It's important to not be discouraged by the weaker times," she said. 
There's only about 100 days until graduation. Sentle said, "I, as well as the other officers feel like time is running away from us. With the graduation ceremony and the senior talent show we have a ton on our plate, but luckily our advisers Fini and Torda are extremely helpful and involved to help us get it all done. 
After all the stress she deals with, Sanson admits the best part of graduation is the beginning of the Commencement ceremony when the graduates walk into the auditorium. She said, "There's something about the anticipation of them walking in, parents seeing their children. It's when they walk in when I feel a vibe or feeling which is what I like the most." 
Sanson gets emotional talking about the class of 2020. With tears in her eyes, she said, "There are some awesome kids. I'm going to be really particular. my AP students are probably one of my favorite students I have ever taught in my entire career. They have left such an impression on me, and I adore them. I love each and every one of them."
Commencement for the class of 2020 will take place on May 23 downtown at Playhouse Square.