Opinion: Big Ten football should start this weekend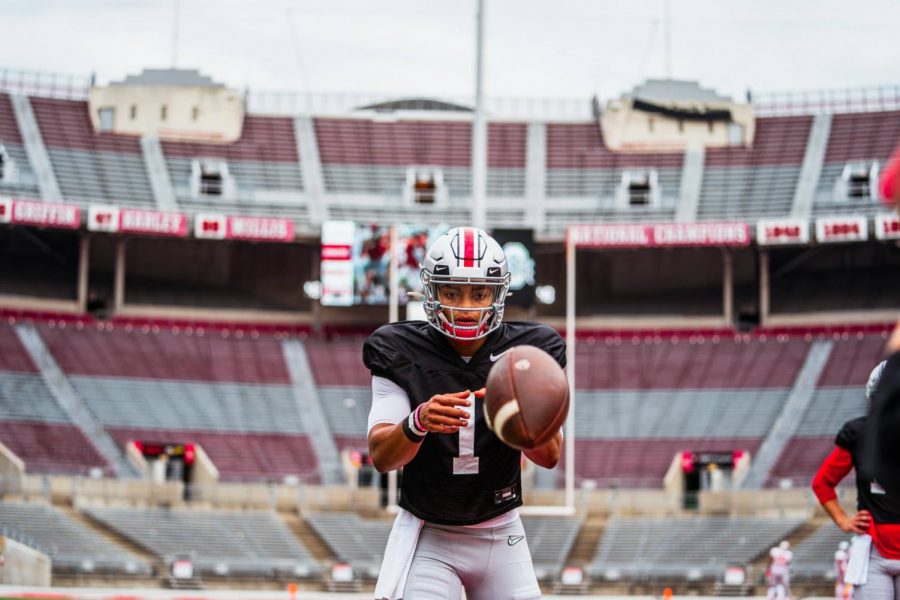 Mark Gombita, Guest Writer
October 23, 2020
Big Ten football has been a huge part of many students and families' lives for a long time. The decision to start the season in October was the correct move.
Michigan Governor Gretchen Whitmer has supported the Big Ten football season during a pandemic. Whitmer told The Detroit News, "'I think everyone of us is interested in football, everyone of us is tired of COVID-19, I am, too […] This has been a tough time, there's no question, and I want to resume some activities that I would ordinarily be doing in the fall, like going to a football game.'"
Alexandra Shaw, a teacher at Mayfield High School, played college sports and admits that she too understands the fans' feelings. She said, "Big Ten football could be a very hopeful event during such a tragic time. The atmosphere of these college games is important to fans."
With the 11-3 vote from all 14 teams of the Big Ten to reverse the postponement of the football season, not only do fans get to benefit from this, but players and coaches do as well. This is very important to them because they are able to continue their legacy and improve their coaching and football skills.
Mark Schlabach and Adam Rittenberg of ESPN wrote about Donald Trump's remarks on the football players and how they have a future ahead of them after college. Trump said, "I think they want to play, and the fans want to see it, and the players have a lot at stake, including possibly playing in the NFL."
Shaw, who once participated in track and field at Baldwin Wallace, understands these opportunities to be great while playing a college sport. She said, "Something that I've been really sympathetic to is that feeling of being an athlete and losing out on your chance just because of a situation that is out of your control. These kids have been working so hard and they miss out on that opportunity, which sucks."
I am extremely grateful for the fact that Big Ten football fans are able to see their favorite teams play on Saturdays and enjoy time with family during these trying times. Ethan Elliott, a junior who loves college football, completely agrees. He said, "I think Big Ten is important to fans because they love the game and without the season, many could be left feeling disappointed."
Elliott also admits that love for the game is also a factor with the student-athletes and their coaches. He said, "The players as well as the coaches will benefit from the season starting because the players get to go out and do what they love."
Businesses also have a chance to improve when college football starts up again since the COVID-19 pandemic devastated their restaurants. These bars and restaurants have been there for many Big Ten football fans for years, so they do not deserve to be suffering due to a season postponement.
Emma Scott Moran of The Columbus Dispatch wrote about the Varsity Club, a local restaurant in Willard, Ohio, is an example of how businesses can boom because of Big Ten football. Moran said, "Varsity Club general manager Tony Mollica, who describes his business as a football restaurant, said that the good news will have a big impact on restaurant owners, customer and sports fans alike."
The importance of Big Ten football to many fans, players, coaches, and businesses is emphasized through many aspects of football culture, such as the atmosphere, family, and friends that come along with them during games. A virus should not have to determine a player's future, a coach's legacy, or how a business should succeed; instead, the game of football is supposed to bring light at the end of the path to these concerns.