Despite challenges, Student Council continues its work
At the beginning of November, the rise of COVID-19 cases led all Mayfield High School students to resume full remote learning. This affected how students learn but also how clubs like Student Council operate.
Adviser Chris Torda admits he, his co-adviser Melissa Sanson, and their student council officers have to meet on Zoom to discuss what to do this year. He said, "We hold meetings once a month to check-in with each other and to discuss any business at-hand. If a special meeting is needed, Zoom actually makes it a little easier for us to schedule [a] time to get together since we all don't have to be in-person."
Mykenna Roy, vice president of the junior class, thinks this year will present some difficulties for the Student Council, especially with fundraising. She said, "We typically do bake sales and car washes… which are normally done in-person. We are not allowed to handle cash from other people nor are we allowed to sell food items, which we hugely profit off of every year."
Sophomore Albana Selgjekaj, a first-time delegate, also worries about the changes that the Student Council will go through this year. She said, "I'm afraid by shutting the school down again that the Student Council won't be able to function the way it traditionally did. I'm new to it this year so I'm not quite sure how things worked in previous years, but I'm hoping that we will still be able to work as a group towards the best interests of the school."
With all the students going back to remote learning, Torda is trying to find new ways to hold fundraisers and events so that the Student Council members can still participate this year. He said, "We have no virtual events planned at this time; however, I am always open to new ideas and the possibility."
As Roy is in charge of helping plan such events, she is also trying to find ways to make them online. She said, "I can speak for the entire Student Council when I say that we genuinely just want to help out in any way that we can, whether that be in-person or online. We have not come across good online group volunteering opportunities yet, but we are always on the lookout."
On the other hand, Selgjekaj is a little skeptical about how online Student Council events would work.  She said, "Personally, I don't think we will be able to accomplish our goal through online methods (though it is possible). But for me, in-person volunteering would be the most effective way to get the job done, and I would be more than willing to participate."
Torda also mentioned that one the loss of one of their biggest events – Homecoming – will be difficult for the Student Council. He said, "Homecoming is our biggest and most profitable money-maker.  We will definitely take a hit this year if we are unable to hold this event. We have tentatively pushed back the event to March, but I highly doubt that we will be able to go through with it because there are just too many people.
"If it does come to the point where Homecoming has to be canceled, it is still our intention to elect a Homecoming Sweet 16 and Court," Torda said.  "Participants will be able to record video self-nominations that will be voted on by the school. We may even try to announce the winners in a mini-ceremony at one of our spring sports events. There are still many things to consider and discuss… It is a fluid situation that changes by the day."
Due to remote learning, Roy believes that many social opportunities within Student Council will be lost this year.  She said, "I definitely miss the all night decorating for Homecoming, along with the weeks of preparation for the dance. We work so hard on a theme and decorations, so it's heartbreaking to have it all taken away."
In addition to an uncertain Homecoming, school officials haven't conclusively said if Prom will be held this year.  Roy said, "The junior class council is also responsible for the planning of the After-Prom, and although we are excited and already tried to book venues, there is a good chance it won't happen."
Selgjekaj admits she also misses the social interaction of club events this year. She said, "Though I understand the precautions needed to keep everyone healthy, I will miss the delight of collaboration and engaging in physical (in-person) events."
Because Student Council has a significant job of raising money, Torda said students should expect to see more of a fundraising effort later in the year.  He said, "Seeing that we all are remote and that we have to obey social distancing and large gathering rules, it makes fundraising a challenge. We will not have any fundraising event until next semester with hopes that our situation will improve. If we find ourselves in the same boat, we will have to think of new fundraising ideas."
Roy has already helped pitch in a few ideas as to how the Student Council can raise money and help out. She said, "We obviously can't have bake sales like we do every year, but we can try something new. We were thinking about designing some physical objects like bracelets or slides with 'Mayfield Spirit' on them to sell to the students. These purchases would be made through Infinite Campus so that the transactions are entirely cashless and safe to give out the products to people."
While Selgjekaj isn't quite sure how the Student Council will change this year compared to previous years, she is still trying to stay positive about this whole situation. She said,  I'm excited to see what we do this year!"
About the Writer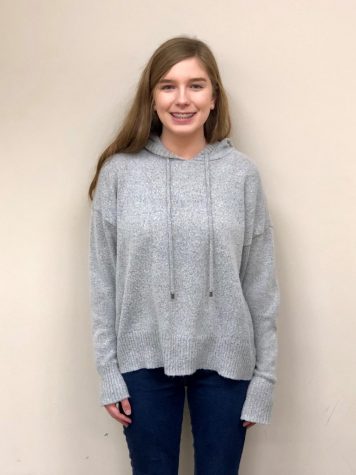 Hailey Nelson, Staff Writer
Hailey Nelson is a junior staff member at The Paw Print.

She has attended school at Mayfield her whole life, joining the Power Of The Pen in middle...