Boys basketball team eager to have season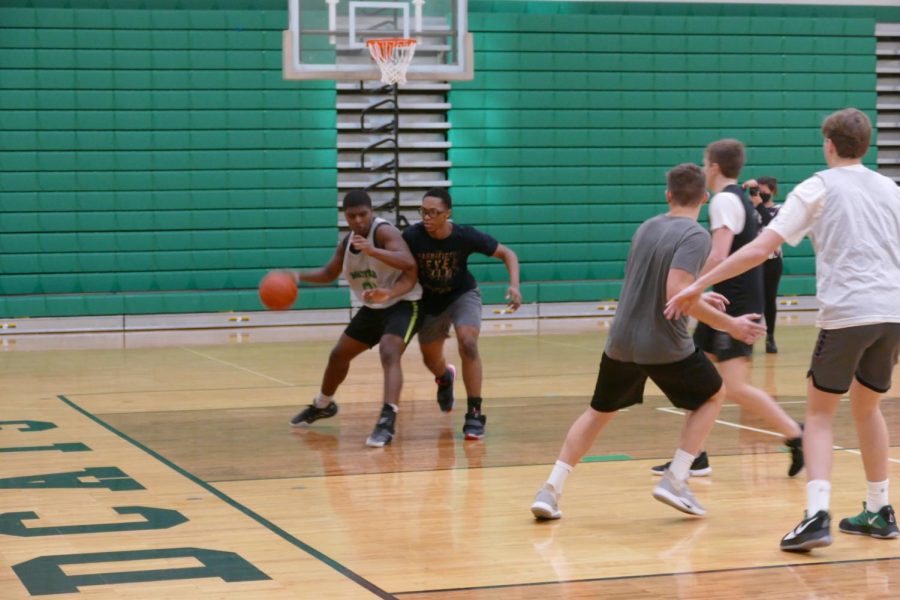 Brielle Bican, Guest Writer
December 7, 2020
As the varsity boys basketball team begins its season, members of the team and coaching staff admit health and safety protocols need to be in place and followed this year.
Joe Hayes is the assistant varsity coach and says the athletic department has clearly established rules. He said, "We will limit the amount of fans at games, all players must wear a mask while sitting on the bench, as well as be spread out sitting on the bench.
"There will be no more than 18 total people in the bench area, and we will continue to social distance, have their temperatures taken on a regular basis, and keep ourselves properly sanitized," Hayes said.
Senior Varsity player Donovan Coffey is one of many who is eager for a season. He said, "We will be staying out of everyone's way and making sure we stay clean and safe. We also will mask up as soon as we leave the court and hopefully we will have our season."
JV player Collin Bresler has made a decision to stay home for his team and to be safe outside of the court. He said, "To make sure me and my teammates have a season, I've chosen to not go to any parties and quarantine myself and I've suggested that my teammates do the same."
Coffey is also a player who is safe outside of the gym. He said, "I'm choosing to stay away from people and quarantine so I don't get corona[virus] and risk my entire team's season."
The Wildcats' next home game will be Tuesday against Willoughby South at 7:30pm.