Sophomore's hobby turns into small business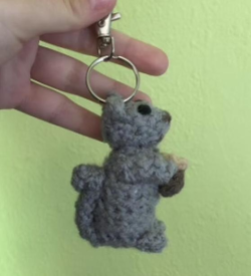 In August 2020, sophomore Katie Cohen launched her own crocheting business, selling keychains.
Cohen began crocheting small animals as a hobby in July during quarantine out of boredom. "I would sit in my room all day, just looking out my window. And then I saw my yarn and was like 'Oh… I can work with this'," she said.
After seven months of her business being open, Cohen says she's crocheted around 150 keychains, making about $550. As of early February, she said, "I spend about 7 hours a week."
Although she doesn't plan to expand her business to other platforms or products, she says her main goal is to keep the quality of her business and product unchanging. She said, "I just want to stay consistent and make people happy because they like them. That's really all I want."
When she was 11, Cohen says she was taught how to crochet by her grandma. But since it had been such a long time, she said, "I had to watch a YouTube video as a refresher. Grandma and YouTube: The tag-team duo."
Each crocheted keychain is $11, including shipping. Cohen said, "People can send me pictures of their pets or characters, and I can make it. I also have main designs that I've made over and over again, like opossums, bees, rats, chickens, and uteruses."
Sophomore Hannah Kloppman, a customer of Cohen's, purchased a chicken keychain that she named Ursala. Describing Cohen's business, Kloppman said, "Her keychains are very well made. It's good quality work."
Kloppman went on to say her purchase was "the greatest work of crochet chicken key chain this world has ever seen."
While Kloppman admits being friends with Cohen, she said she would have purchased the keychain anyway.
"I have no bias. It's just good quality," Kloppman said.
Cohen uses the shopping app, Depop, to house her business. She said, "My cousin introduced me to Depop, and I thought it was really cool and easy."
Each keychain takes about one to two hours to make. Cohen said, "I watch Netflix while I do it, to fulfill the use of all my senses."
Cohen said that all but one of the 59 reviews on her Depop, @kcohen12, are five stars. She says she has "one four-star review due to shipping."
Many reviews on her Depop describe her business as "sweet," "cute," and "talented." One user, @lemonlemonlime, said, "Buying these two crocheted chickens was probably the best thing I've ever bought on Depop."