Musical perseveres during pandemic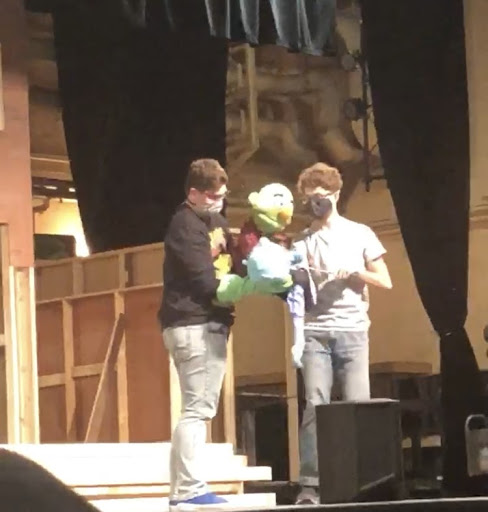 Mayfield High school will be putting on the musical "Avenue Q" this week, despite the challenges of COVID-19 protocols.
One of the people in charge behind the scenes, Jenny Walker, is confident in "Avenue Q's" ability to work both virtually and in-person. She said, "Puppets would translate well to being in a virtual setting if need be and we could still have all of our actors masked during the performances without it being detrimental to the production."
"Avenue Q" is considered an ensemble musical, meaning that there isn't a true main character or a large cast. "There really are two main couples… Princeton and Kate Monster are our romantic leads, and I would say Rod and Nicky are the other main leads," said Walker.
"Avenue Q" was a controversial choice, which originally concerned Mayfield's principal, Jeff Legan. He said, "I read the high school version and I feel comfortable with it, the adult version absolutely not. After knowing what that version is, that made me nervous, but I think overall that this is going to be light-hearted and I think that's what our community needs."
The protocols that were put in place in order to have the musical this year have created some challenges in preparing for the performances. Walker said, "We've had challenges trying to work with our actors, who will have half of their face covered during the performance, [and] learning how to emote and express without having access to your facial expressions."
Senior performer Paul Zito feels good about the protocols. He said, "[If] they didn't exist we would never [have a] musical; [we would] just be sitting at home for another year, so I think it's great that there are things we can do to lower the risk and be able to put on a show."
Even with the protocols, there are still some concerns about safety, admits Walker. "My only real fear would be that somebody would come down with symptoms or catch COVID-19 and prevent them from participating in our program or performing on the set dates for performance. We have had to designate understudies for every role in the show and even assigned understudies to those understudies to make sure we are covered, just in case," said Walker.
Zito admits he is concerned about the responsibility of his fellow actors because he has no insight into how they spend their free time. He said, "I can only hope that the protocols we're taking for the show to go on [are] what's keeping things safe."
Preparing for the musical has been a very time-consuming process, according to Walker. She said, "I usually start with the directing aspect first with stage direction. [What] we've been doing is we've been working on basic blocking for everybody, making sure our puppets characters are done and our human characters are done; then, we're going to finish sewing the puppets and we are going to start painting the set and distressing all of the buildings in the set."
Due to the pandemic, there will also be restrictions on the audience. Legan said, "We have some stipulations in which for any indoor event we can only have 25% of our maximum capacity. When speaking with Mr. Braun, originally we were just looking at providing tickets for families of the cast members. I think the plan was maybe to have a total of maybe like 2,500 people for the weekend."
According to Walker, the performances are set and secured for April 16-18. She said, "I don't believe we will need to push back our dates at all. If that ever were a consideration, we would have to work very closely with Mr. Legan to make sure there were no conflicts."