Parents plan After-Prom for juniors, seniors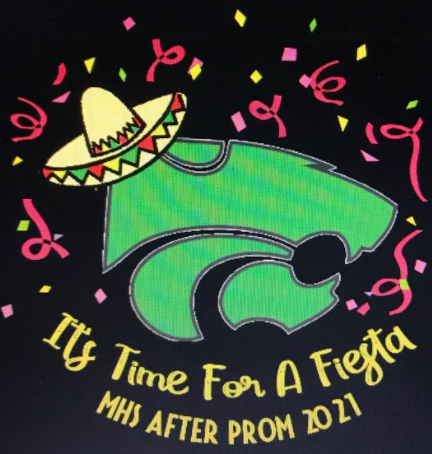 Organizers of this year's After-Prom have worked hard to give students a fun event to attend on May 29.
Michelle Bremec, the After-Prom committee secretary and a mother of a senior (Ben), admits that COVID left all After-Prom planning up-in-the-air. She said, "All the planning and fundraising has been really difficult because until recently we weren't even sure if After-Prom would go forward."
To protect its guests during the pandemic, the committee has put in several safety rules. Bremec said, "All of the students have to wear their masks and social distance while there. It will be tough and a little different this year, but we are trying our best to make it work."
Bremec credits the support from the Mayfield community, so After-Prom could be held this year. She said, "Without the donors or supporters, we wouldn't be able to do any of this. I appreciate every single one of them."
Denise Wallace, a supporter of Mayfield After-Prom and a mother of a senior (Eddie), is supporting the Mayfield After-Prom by volunteering and donating. She said, "I think After-Prom is a super fun way for the students to stay safe and have fun. Also so they can spend one final night with their classmates all together. This is part of the reason I volunteered and helped out."
Because of the cancelled events that have happened this year, Bremec understands how important it is for seniors to have something to enjoy this May. She said, "We are trying our hardest to make the seniors have a very fun night, especially with everything going on in their lives right now."
Wallace admits that although there is a lot going on with the pandemic, she wants her son to attend Prom and After-Prom. She said, "I think this After-Prom will be more meaningful and special because this group of seniors have missed out on so many group events this year."
Not only does the After-Prom committee believe they are doing a lot to give the seniors a great final event, the outside community does as well. "So much time and effort gets put into this event by so many parent volunteers just so the kids can have a safe fun event," Wallace said.
While some critics believe there shouldn't be an After-Prom due to the global pandemic, Bremec, Wallace, and many other After-Prom supporters disagree. "We have changed so many ideas and done different things than ever before just to keep the community safe and healthy," Bremec said.
This year's After-Prom is open to both juniors and seniors. Bremec said, "I am a little biased because I am on the committee, but I believe that everyone who gets the chance to go, should [go]. I want my son to go as well, not only because I am a part of the committee but because I want him to finish off high school on a high note."
The event will be held at Fun and Stuff in Macedonia. Tickets are $20 each and can be purchased online. For more details, students should check the email from junior class adviser, Gina Burich.