CSU's Math Corps leaves impact on students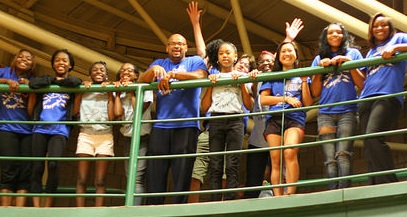 It's no secret that many middle and high school students struggle with math and its relevance in daily life, so Cleveland State University set out to change that.
As a result, the Math Corps program was developed for students to learn math from each other, as well as from college professors, in a university setting.
Dr. Carol Phillips-Bey, Executive Director of Math Corps, has run the program for the last nine years, and every year she said she has the same mission. "We want to help inspire self-worth, values, and a sense of family on children from under-served communities in the Greater Cleveland area. And teaching mathematics is our way to help them become successful," said Dr. Phillips-Bey.
Students must take a pretest before beginning the program, which typically results in scores that are significantly below grade level (around 28%). Yet, after Math Corps, test scores increase to 81% and students perform at or above grade level. Dr. Philip-Bey calls the procedure fairly straightforward.
She said, "We have two programs: The Super Saturdays program, which is held during the school year at CWRU and the summer camp which is a six-week program at the Cleveland State campus. This program involves seventh and eighth graders and a handful of high school students, who can qualify as TA's (teaching assistants) and work with the college students who are the actual instructors of the program."
Formatting the program this way, according to Dr. Philip-Bey, helps both the students and instructors, as it cultivates strong family relationships not just teachers or role models. "It's not peers helping peers, it's the slightly older helping the slightly younger," said Dr. Philip-Bey
Due to the unprecedented events of COVID-19 ravishing the world, The Math Corps programs were and still are affected by this change. Dr. Philips-Bey said, "Last year the Math Corps program was remote and this year it will be as well, which is sad because we miss interacting with the students, seeing them and having a physical and emotional connection with them."
Sophomore Paris Bunch is employed as a teaching assistant (TA) at the program and doesn't think being remote will change her experience. "The only thing that's changed is that we are talking through a screen. The connection we have with each other is still there," said Bunch.
Bunch's interest in the program is piqued, as she believes the program is an incredible thing to be a part of because she's able to be herself while helping kids learn. Bunch said, "Because of my interests, like music and performing, I would include some sort of music activity that any of the students can enjoy and learn from."
However, the Math Corps program has no major plans for the future because, as a tuition-free program funded by the community, obtaining a consistent amount of money every year can be challenging. Dr. Philips-Bey said, "In the future I want to have more support so it's not such a struggle to start this every year. But honestly, I wish that the Math Corps didn't have to exist. I wish students could effectively learn math from their schools, but we realize that there is a need for this."
According to Dr. Philips-Bey, Math Corps has a profound impact on students, instructors, and the community in ways that go beyond math. Primarily, she has always wanted students to develop as individuals.
"In my opinion, Math Corps has aided students' anatomy, honesty, bravery, compassion, self-worth, and meeting their own standards. Teaching these habits, attitudes, and beliefs to students will help them go out into the world and make it a better place," said Dr. Philips-Bey.
Overall, Bunch believes Math Corps is a special place at CSU that provides a much-needed program that brings students from all over Cleveland together to learn math and develop personally.
"One of the best things about this program is the bond we all have with each other. I can't even explain how much we love, help, appreciate, and accept one another […] We are a huge family that helps each other grow as people," she said.
And it is because of students like Paris Bunch that Dr. Philips-Bey enjoys this program and continues to be a part of it. "Every year I see greatness in each student through their hard work and dedication. And though I wish it wasn't needed, their growth is what keeps me inspired," Dr. Philips-Bey said.