Q&A: Math teacher plans backyard renovation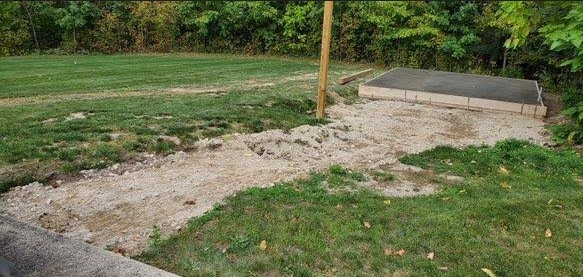 In an exclusive interview, The Paw Print's Ariella Fleyshman sat down with math teacher Mrs. Kate McCartney to discuss her outdoor summer project.
Ariella: So, you have been saying that you are renovating your backyard, why is that? What was the reason?
McCartney: There are lots of reasons. We want to make it a summer oasis. We want to have better landscaping, a bigger and better grill, a refrigerator, a bar, a cool sink, a hot tub – redo landscaping and building a patio to make a smoother transition from the pool to the patio.
Ariella: Oh wow! Sounds like a big project! How long do you think the process will take you? I know it can be stressful to do it on our own, so who in your family is helping to make that process shorter?
McCartney: It definitely is gonna be a big project. My husband and I are making all the choices, but we are having a company build it. [There are] lots of questions about colors of countertops, and adding types of seats in the pool, uplighting underneath the railing. The process might take longer. Because of  COVID, the process is already in backorder, having to line up the contractors. We are supposed to get the countertops next Friday, but it's difficult because the people who are doing it might be busy – so smoothly two to three months [is how long it'll take].
Ariella: Hopefully it will be two to three months because that seems like a good amount of time to use it during the summer. Where in the year is the process mostly gonna take? Have you already started the project?
McCartney: My family and I are hoping for two to three months definitely. The process has mostly been started. The shed was built, adding countertops, and the bar is gonna be built soon. But it's mostly gonna be early spring and summer 'cause we have already started.
Ariella: That's great. It's always good to get a good head start on these types of things, especially 'cause you wanna use it in the summer. How long were you and your family discussing these renovations?
McCartney: We thought the same thing and wow, we have been wanting to do this for such a long time. I would say roughly two summers ago we hired a company that fell through. Last summer we wanted to do it, but because of COVID, everything went back orderly. We started some things, but most of it is unfinished. People kept falling through.
Ariella: That must have been a huge setback. I remember when my mom was renovating our kitchen – she had a difficult time with people helping her and making time to help. So, what part of the renovation will take the longest?
McCartney: I can definitely see that happening. It is so difficult for people to fit our big project in their schedule and that's probably what happened with your mom. The patio will take the longest. We have to wait so many days to get the cement and the people need to use a cement mixer and then you need to wait several days for the finisher. So, it's gonna have to be done in sections. It's based on the weather and you can't pour cement when it's raining.
Ariella: I totally understand that. Hopefully, it won't take too long. Speaking of the process, what are you most excited about when finishing? How excited is your family?
McCartney: Yes, fingers crossed it goes by fast. We are all very excited and it's gonna be awesome! The patio is gonna get a sun umbrella and a gazebo, so we are excited to have some shade. So, for some friends and family who don't like the sun, it's exciting. My husband can grill all year long now because we have propane gas. We are getting a fire pit so spending time with family near the fire and making smores. Just making memories with family – eat, play, and enjoy family time during the summer!  School is very stressful, and I don't get to see my kids much, and so now it's nice that I get to take my time in my own backyard with my family during the summer with my new renovations.
Ariella: Wow! That sounds amazing. I wish you the best of luck with the remodel. I hope the process goes smoothly and quickly.
McCartney: Yeah, we are all very pumped! Thank you so much!