Senior overcomes stroke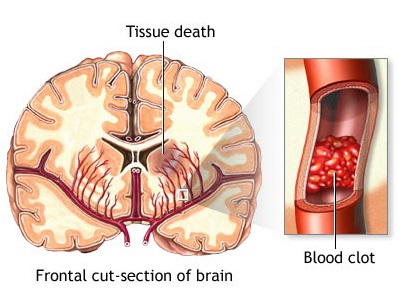 Senior Katie Agresta has spent the past year overcoming challenges that came from having a stroke.
Last fall, Agresta was going about her day when she noticed something that seemed amiss while in her Interactive Media TECC class. She said, "I noticed my head, like it was really pounding and it hurt like crazy bad, but I thought it was just a freakish headache. I noticed things were super off when my right hand tremor appeared, and it would not work properly at all."
Later that evening, Agresta was enjoying her dinner when she really started to notice that something was wrong with her. She said, "My mom and brother were in the room when I entirely zoned out and then collapsed and suddenly started seizing. My mom called 911."
Agresta was promptly rushed to the hospital, and after being stabilized, was told what had just happened to her. She said, "It turns out that I'm so super special that I'm one of the one-in-a-million cases where estrogen from birth control can cause blood clotting. It can cause blood clots anywhere, but mine just so happened to be in my brain giving me a stroke. It's like a very rare and unfortunate side effect of birth control because of its high estrogen levels."
While Agresta was recovering in the hospital, she used the time she had to self-care and satisfy her boredom. She said, "I drew a lot with markers even though my hands were very shaky. Later in my recovery, I started walking around and listening to music, and going up and down the stairs because I was excited I was able to use them by myself again."
When Agresta was finally able to leave the hospital, she started taking better care of herself by taking her medicine and going to various therapy sessions. She said, "I've really mainly been trying to just do things I really like and talk to more people, and that's just what makes me feel better. I try not to take it too seriously even though I know what happened was serious because that's just how I am, but I literally just cope by trying to have fun."
Agresta's mother Debra, who was present when Agresta collapsed, said she recognized something was wrong and made quick decisions in order to save her daughter's life. Debra said, "I noticed her right arm was bent at the elbow, her hand made a fist, and her wrist was bent close to her chest. This reminded me of how I might have in the past seen an elderly person holding their arm close to their body after they had suffered a stroke or other serious medical event."
Debra also contacted Agresta's teachers to make sure her daughter didn't fall behind on her schoolwork. "I encouraged Katie, with her doctor's approval, to get back into doing the activities she enjoyed prior to her stroke, and little by little, Katie was able to resume workouts with her personal trainer and dance classes," Debra said.
As one might expect, this experience changed Debra's life, as she admits to being "more present, more patient, and more loving" since her daughter's incident. "Most of all, I think Katie's medical event made me realize how quickly things can change and how we should all slow down, not stress about the little things, show more love and kindness, and be grateful for each day we are given," Debra said.