Election Q&A: Stocum runs for school board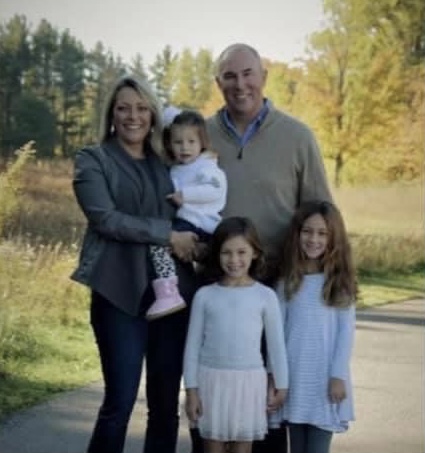 To prepare for the upcoming Nov. 2 election, The Paw Print's Gabriella Di Lalla conducted email interviews with the seven candidates running for three positions on the Mayfield City Schools Board of Education. The Paw Print has not taken a position in the election and has not endorsed a candidate.
The story below reflects the interview that took place between Gabriella and Benjamin Stocum.
Gabriella: Why are you running for the Board of Education? If elected, what will be your priorities?
Mr. Stocum: I am very interested in having a strong school board in Mayfield because I have three daughters, who are all pretty young right now, and we intend to send them to Mayfield City Schools from kindergarten through 12th grade. I am running for a seat on the board because, in my opinion, the current board is ignoring some big potential problems on the horizon for Mayfield Schools, and I think we can do better for our students, your teachers/administrators, and the community at large.
Gabriella: Is there a particular issue that motivates you to serve on the Board of Education?
Mr. Stocum: Over the past 10 years, there has a been a steady decline in student proficiency in Math, Reading and Language Arts in Mayfield Schools. In 2010, we were at an 87% proficiency level in Math and an 89% proficiency level in Reading & Language Arts. As of 2020, we are down to approximately 72% proficiency in Math and 77% in Reading & Language Arts. That's a 16% and a 12% decline in these respective categories. While our graduation rates have been relatively steady, we are matriculating young adults with lower-level skills, who are less prepared to effectively compete in an increasingly complex world.
Gabriella: What particular experiences or skills have prepared you to serve as a board member?
Mr. Stocum: If I am elected, I will make it a priority to create more meaningful and productive engagement with all of the Mayors and the City Council Members from Mayfield Heights, Highland Heights, Mayfield Village and Gates Mills. Mayfield Schools need to remain very well-funded, so that we can offer the best possible resources to our students, teachers and administrators, and I will make sure our city government leaders are doing the best we can to maintain strong and coordinated economic development plans in the Mayfield school communities.  My other immediate priority will be to create and foster more regular and direct communications between the Board and parents. I envision these being monthly meetings, during which we can offer more meaningful exchanges, than those offered at regularly scheduled school board meetings.  The other priorities I will advocate for, include:
Accountability & Transparency: Board | Superintendent | Treasurer | Community
Thoughtful and Responsible Convergence of Education and Technology
EXCELLENCE in Educational Opportunity for Every Student. Period.
Developing and Maintaining a Championship Caliber Athletic Department and Championship Caliber Athletic Programs.
Gabriella: What issues do you believe our district needs to address in its academic program and offerings? What changes would you recommend?
Mr. Stocum: Well, I think we need to identify why our proficiency levels in Math, Reading and Language Arts have been declining and reverse that trend, immediately. I want to be careful about injecting my personal curriculum preferences in an inappropriate way. I am not an education professional and, as a Board member, I will focus more on governance than school operations… But, I can tell you this… With the amount of revenue our school system has access to every year, we have an obligation to provide the most robust offering of high quality programs possible across:
college prep
vocational (blue and white collar)
special needs (higher-end and lower-end learners)
arts and
athletics.
Gabriella: What differentiates you from the other candidates and/or board members?
Mr. Stocum: None of the current Board members have any children currently attending Mayfield City Schools, and I have two (soon to be three), so that's one big difference. When you talk to your children every day about what happened in school, you get a direct and intimate understanding of how well the system is working for your children. Compared to the other non-incumbent candidates who are running, I believe I am quite different than all of them. I have made a successful career in business and have served on multiple private company boards, as well as having previous experience on the Mayfield Heights Board of Zoning Appeals. So, I understand how Boards operate and I understand how to build effective working relationships, at the Board level, even with people I may disagree with on a particular issue. Any Board is most effective serving its stakeholders if there is open, honest and sometimes vigorous debate. We have to challenge the status quo and we have to challenge each other because there are so many people bearing the consequences of our decisions. We better be right."