Seniors send early college applications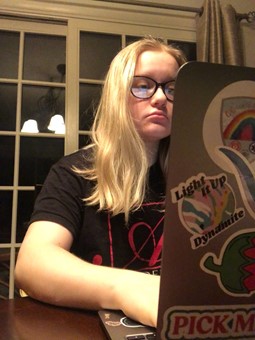 Over the past couple of weeks, seniors have been working to submit their college applications as early as possible.
Tyler Nungesser was one of the seniors who sent his college applications before Nov. 1. He said, "I applied to four schools last month, including Ohio State, Toledo, Findlay, and Ohio Northern. I applied to these schools because they are the top schools containing the specific program that I applied for."
Similarly, Kylie Fratantonio has also been sending her applications early to many different colleges. She said, "I've applied to three schools so far, and I'm planning on applying to a couple more. I am applying to quite a few schools because I want to have options, but I am also limiting myself to six because I don't want to overwhelm myself or pick colleges that I'm not that interested in going to."
On the other hand, senior Hannah Birnbaum wasn't able to send as many applications as she had hoped. She said, "I applied to four schools. I wanted to apply for more, but because of the major I want to pursue, my options are quite limited."
Nungesser originally thought he'd want to attend Ohio State, but that changed after he visited Ohio Northern. He said, "I realized that I liked smaller campuses better. Ohio Northern had a beautiful campus and a very welcoming atmosphere. After the visit, I knew that Ohio Northern was where I truly wanted to go."
Fratantonio, however, doesn't believe that she is entirely invested in any of the colleges that she has applied to yet. She said, "I haven't had a dream school or one that I would automatically want to go to if I were to get in. As long as I like the environment and majors that a school has to offer, I will seriously consider it. Currently, I am considering Case Western and Ohio State as my top schools."
For Birnbaum, her choice of a dream school involved many factors that led to her falling in love with the college. She said, "My dream school is Ohio State. When I visited, I loved the atmosphere and my friends that already go there love it as well. Also, my dad went there, so it's cool to go to the same school as him."
In terms of majors, Nungesser plans to study pharmaceuticals. He said, "I have actually been accepted into Ohio Northern, Findlay, and Toledo. I decided I wanted to major in pharmaceuticals because I want to help people, and I know I have the leadership and communication skills to do so."
Coincidentally, Birnbaum is also pursuing pharmacy school. She said, "I wanted to do something in the medical field that doesn't require as many years of college as med school. Also, my mom is a pharmacist, so it's cool to follow in her footsteps."
Meanwhile, Fratantonio is still exploring her options and is undecided. She said, "I have a lot of things I might be interested in and am having trouble picking one."
Overall, Nungesser believes that applying to colleges was relatively simple this year. He said, "The college application process has been pretty easy for me. Although it took some time to fill everything out, I made sure to keep up on my school work as well. Though, it was definitely a relief when I submitted them."
On the other hand, Fratantonio felt as if the process was a bit more difficult than she had previously anticipated. She said, "The college application process has been stressful at times, since a lot of colleges require you to write additional essays or have recommendation letters. It has caused me to stay up later most nights in order to get my school work done on top of everything else."
For Birnbaum, the whole process was more time-consuming than anything else. She said, "The college application process wasn't super stressful, [as] I just had to make sure that I stayed on top of things and didn't do everything last minute. It didn't really conflict with my school work only because I don't have a super heavy workload this year, but I definitely had to set aside time each day to work on the Common App and my essay."
Although the beginning of this month was the deadline for most early action applications, seniors who have yet to submit their applications can still send them to colleges with a Dec. 1 deadline.