Varsity volleyball team seeks new head coach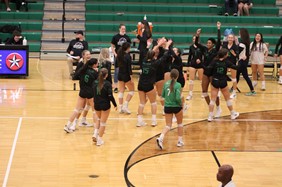 The volleyball program is now on the lookout for a new varsity coach.
Two-year varsity starter Jillian Gdovin was disappointed to learn that former varsity coach, Rosella Glodowski, was stepping down. Gdovin said, "[Coach G] really changed the game of volleyball for me. Knowing that she is leaving is very sad, but thankfully I got to spend the time I had with her."
Senior Maya Webb, captain of the varsity team, thinks the culture of Coach G's volleyball program has been like another family to her. "[The team has been] incredibly supportive and will back you and your decisions," Webb said.
Coach G always made the girls do sprints and up-downs as a discipline for a dropped ball or certain errors. It would be a quick, jump off the court and hop right back on.
Two-year varsity player, Sophia Smiley, admits she enjoyed the discipline during practice because it ultimately helped the team. She said, "It's annoying to have to do, but it trains the team to work together and play their best at all times, and it is just little things of conditioning too."
Gdovin feels that if the new coach is open to getting close to the players, it will not take long for the players to adjust to him/her. "I feel like if the coach is willing to get to know everyone on a personal level and have the mindset of leading the team to many wins then I think it won't take long," Gdovin said.
Smiley wants a new coach that will train and help her play her best. She said, "I'm looking for a hard-working coach that pushes me to be my best and a fun coach that has a good background in coaching."
During this transition, Webb thinks the culture of the volleyball program will either shift or improve based on the effort of both the players and the coach. She said, "I think a new coach will bring new ideas and a new perspective, but time will tell if it's improving the program or not."
Gdovin states that having a new coach will impact the team and give people a clean slate. She said, "Everyone who is going to try out for the team gets a fresh start to show their potential to the new coach."