New science club aspires to host events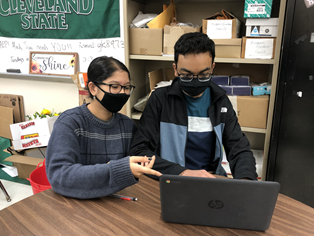 This year, the Science National Honors Society became a club at Mayfield, facing unique challenges regarding event planning.
The purpose behind SNHS is mainly to interest and excite people, according to club adviser Matt Lucas. He said, "Our goals are just to promote science to as much as the student body as we can, put on full events for kids to get excited about science and get to explore a little bit more, some deeper things, some science-related content, that we may not have classes on in the year."
Lucas, a former Science Olympiad coach in Toledo and a newer science teacher at MHS, thinks the process of planning events has been a challenge. Lucas said, "We have great ideas. We just don't know if we can actually do them with restrictions and all that stuff put in place right now."
A stargazing night towards the end of the school year is one event regarded as easier to plan by the officers. Lucas said, "We've also talked about bringing back something like the science showcase and hosting a TEDx event, so both of those things are going to be a lot harder to plan because they're much bigger events. We're going to have to have a lot of people involved, get the community involved, so that's going to be a lot more difficult in the future."
The officers of this club have visions of prominence and Lucas said he's supportive. "Obviously we're in our infancy right now, the very start, so I'd like to see a lot of events put on and again a major club that promotes science throughout not only the high school but the community," said Lucas.
President Mohammad Zoraiz said the club needs to consider the school protocols for event planning, too. He said, "Most of the time we have to fill out applications to these kinds of events, and we're trying to get the school on board with what we're trying to do."
Trying to balance all of these requirements can be very frustrating and difficult, according to Zoraiz. He said, "School just makes it really hard to plan anything at all, so there's a lot of red tape going around. I feel like they're blaming a lot of stuff on Covid, but I feel like most people just don't care that much anymore, so I don't see why they're making that big of an issue out of not letting us plan events and go on field trips."
The officers also set up discussions and make time for planning. Jenny Sarkar, the club's Vice President of Community Affairs, said, "Usually we have a brainstorming session, where we come in during lunch or sometime, and we have a couple options that Mohammad has picked out for us. Then, we go into the specifics of first: is it a good option?; two: would it be fun for the members of the society?; and three: would it be directed towards science?"
Sarkar said the officers are excited about the possibility of hosting future events, especially a TED Talk. She said, "In my experience, I've gone to a lot of conferences with a lot of professors in research, and I'm excited to see what we have in store for the people of the society as per science in general, because there are so many spectrums of science. There's a lot to learn from the people who are the best in their fields."