Multiple creative writers win Scholastic awards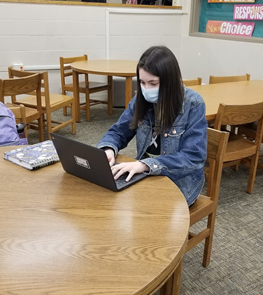 Mary Jo Baetzold, Sarah Carlile, Mia Mauer, Olga Murkdakhaev, Gabriella Polin, and Maximus Yost.
These are the creative writing students who were announced as winners in this year's Scholastic Art & Writing Awards competition last week.
Creative writing instructor Kari Beery confirms this was a big contest year for her students. She said, "I definitely think this is one of our biggest years as far as people being recognized, but also just in terms of participating. It's really exciting."
Senior Gabi Polin is one of two students in Beery's class who received a gold key (the highest honor) for a short story entry entitled "Heist." She said, "The whole contest was just such a rewarding experience, especially for someone like me who was used to just writing on my own and not really sharing it with anyone. It was a nice change of pace."
Fellow senior Olga Murkdakhaev received a silver key for a novel-writing entry entitled "Dead Bird Everywhere" and is the first student in school history (exceeding ten years of participation) to be recognized in this genre.
Going into the competition, Murkdakhaev didn't have high expectations. She said, "Now that the results have come in, I can definitely say I'm a lot more confident in my writing, and I think it's something that I'll continue doing [beyond high school]."
Beery views her role in this competition as a guide to entering students. She said, "The goal [for me] is to be in conversation with the writer. You want to leave the decision-making up to the author, but also guide them through the possibilities that they may see or not see in their own writing."
Had it not been for Beery's class, Murkdakhaev wouldn't have entered into a contest like Scholastics. She said, "Mrs. Beery helped in providing me with a really nice space and time to write it, as well as just the motivation to do it… had I not taken her class, there's no way I actually would have written [my piece]; and if I had, I would have quit within the first week."
In addition to Beery's support, Murkdakhaev also credits her twin sister, Alena. She said, "[Alena] was my thought bouncer. I told her about the original idea I had [for my story] after finishing [the "Six of Crows" series by Leigh Bardugo] back in the ninth grade, and we had talked about this elaborate idea together and then totally forgot about it once I had gotten it out of my system.
"So fast forward three years later when I actually started writing it, she helped me shape and fine-tune it," Murkdakhaev said.
Beery extended the invite for graduating seniors like Polin and Murdakhayev to participate in this year's contest despite being first-year creative writing students. Polin said, "Going into it, I knew I was sort of lacking in terms of experience because I wasn't a veteran student, and the majority of these other schools are seasoned writers, as well… so I kind of just went in hoping for the best and seeing how it went."
Polin's award was a confidence boost for the senior. She said, "Because there wasn't a template, or format, or structure I had to learn and follow, it was just all me, and people liked that!"
Beery believes her creative writing students are usually individuals who really want to navigate, learn, evolve, and are looking to make a powerful statement with their work. She said, "It's really a privilege and gift to get to be in someone's creative process and to be part of the conversation that goes into their stylistic choices."
While both Polin and Murkdakhaev strongly encourage students to take creative writing and try out contests like Scholastics, Beery also states the class is something anyone can do. She said, "I think everyone has a story, everyone has a voice, and everyone has something meaningful to say and contribute to the artistic expression of the world.
"I would encourage every student, whether you've written your whole life or just wonder what it's like, if you have an open mind and an open spirit, you'll really find a lot of benefits to being [in creative writing]," Beery said.
The six award-winning writers will be honored and recognized by a virtual ceremony and in-person exhibition gala sponsored by the Cleveland Institute of Art this Saturday, Jan. 15.