First Watch dishes up great service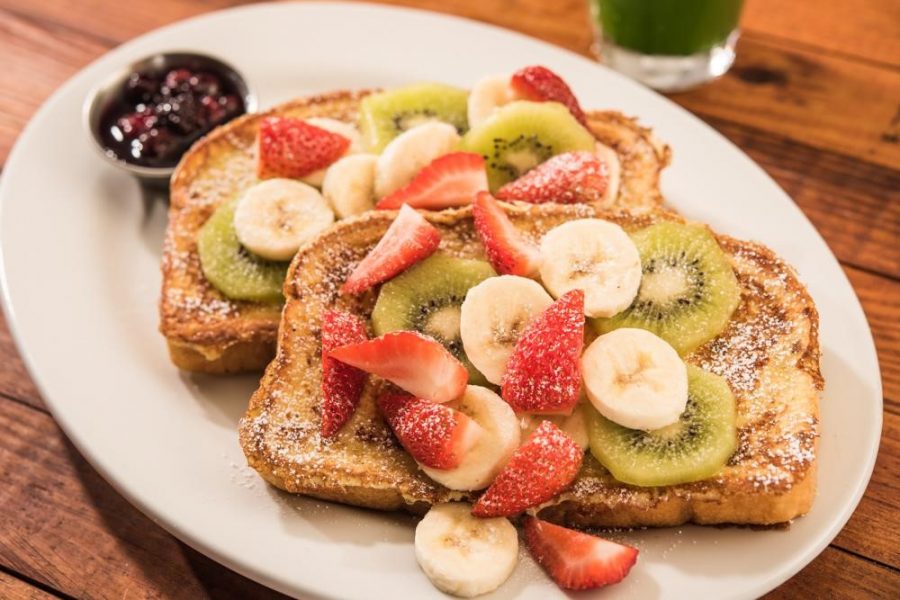 If you're in the mood for a comforting family meal with great service, then First Watch Breakfast Cafe on Som Center Road is the place for you.
First Watch is unique because it emphasizes family and friendship. It has a cozy feel to it and makes you feel right at home.
The best feature First Watch has to offer is their incredible service.
Upon my arrival, I was immediately greeted by an energetic server who was engaged in our conversation and sat us quickly. In the late morning on Friday, Oct. 13, there was no wait to be seated, and the tables were wiped down and clean.
The server wore a polo and khakis, but was casual. He set up a high chair for my nephew and was focused on taking our order.
When my niece ordered the wrong pancakes, the server generously brought out chocolate chips to accommodate her. This thoughtful service impressed our group.
The decor of the restaurant is modern, but has a homestyle feel to it. It has bright blue sky ceiling tiles and warm wood work along the walls.
The noise level inside the restaurant was fairly low and makes it easy to focus on your family instead of other people. The booths were private and gave plenty of room to fit large families.
The layout of the restaurant is very open, and there are many beautiful paintings hanging along the walls. There is also a large apple mural that caught my attention immediately, and it was very simple and inviting.
The restaurant was buzzing with people, and all the tables were filled with content customers.
When ordering, the menu has a wide variety of choices. There are traditional and flavored pancakes, special power bowls, eggs all ways, and healthy options too. There are also limited time seasonal items that add excitement and the opportunity to try something new.
The iced coffee ($2.69) came out within three minutes of ordering and had the perfect amount of cream and sugar with a dulcet taste. The pot of coffee brought out was hot and had strong, rich flavor as well.
Deciding what to get is very challenging, considering all of the amazing options.
If you want to try a fall time favorite, I highly recommend ordering the delectable pumpkin pancakes ($4.49), as they are warm and fluffy. With each bite, they melted in my mouth with an unbeatable explosion of different spices. The pancake was the size of the plate and was a beautiful sight with two rounded pads of butter and clouds of steam.
For people trying to eat better, the Trifecta ($8.79) is a great choice because it is filling and healthy. Inside the large egg white omelet, there are savory crimini mushrooms, bitter roasted onions, and a refreshing pico di gallo on the side. The flavors are intense, and the omelet was utterly delicious.
Junior Jenna Hays loves to eat at First Watch for a satisfying breakfast. Hays said, "I ordered a blueberry and a banana granola crunch pancake, and they were both really good and warm."
Compared to Yours Truly, breakfast at First Watch has a much better flavor and a larger variety. Yours Truly is a very small space and has very little room to move around, whereas First Watch is open and has enough space to move freely and comfortably. Yours Truly is a family restaurant that brings in many regulars just like First Watch.
Both restaurants serve great breakfast and are family friendly.
Although the restaurant has numerous amazing features, one thing I would like to see is music in the background. It felt odd just hearing other people's conversations. It seemed too quiet and dull in the restaurant.
For good service, come on a weekday morning to avoid the crowds that usually flood in on the weekends. The prices are fairly low for such high quality food, and it's worth every penny.
I give First Watch five out of five forks. I highly recommend this restaurant and hope you all give it a try. You won't regret it.
First Watch
1431 Som Center Rd, Mayfield Heights, OH 44124
(440) 684-1825
https://www.firstwatch.com
Price: Moderately expensive
American breakfast at high quality
5 stars: high recommendation