Daboros dishes up nutritious food for vegans, healthy eaters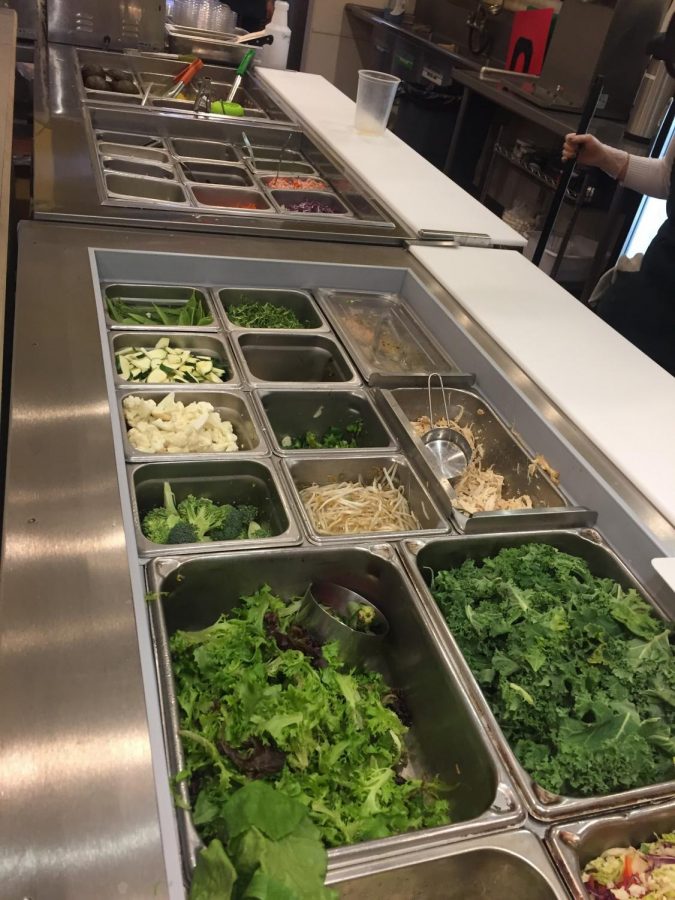 Daboros is a fresh food cafe in Mayfield Heights that provides a wide variety of healthy eats for people of all special diets.
Their new style of cuisine draws many different people into the store in hopes to find an alternative option to the basic vegan choices. By offering foods such as rice bowls, spring rolls, soups, and specialty items, Daboros provides food with a purpose: to gain back people's wellness and peace of mind.
The common theme for Daboros is fresh, healthy food served fast, according to Pidge Griffin. She said the owner wants to show people that it is nothing fancy and comes for a relatively cheap price.
Griffin has gained knowledge about the types of food served because she has worked at Daboros since it first opened. Griffin said, "Ame [Taton], the store founder and owner chooses the menu options and creates innovative ways to use the nutritious food."
Taton uses her knowledge of clean foods to procure her specialized menu.
Griffin said, "Everything is loosely based on the Gerson Plan which contains foods that are easily digestible for most people in their natural state. Going from those diet based items, we are always trying to find new ways to mix and match them to make hem taste delicious.
Daboros also offers a variety of fresh juices made solely from fruits and vegetables in an attempt to get people off of sugary, artificial beverages. Customers can customize their juice to help them get over certain illnesses such as digestive complications, colds, hangovers, and more.
Liv Farinacci is a new employee at Daboros and also a student at MHS. She has a lot of experience with healthy eating after being a vegan for two years. Farinacci said, "I think that they [Daboros] are really making an impact on people's lives with the fresh food movement and by incorporating organic vegetables."
The restaurant also offers a variety of protein to accommodate those who work out or are trying to bulk up. One can choose from, free range gerber chicken, wild caught Alaskan salmon, egg, or organic avocado. These healthy fats help many health conscious eaters meet their macros for the day while ensuring their foods is wholesome.
Daboros also offers customizable spring rolls that are low in carb and can be stuffed with a rainbow assortment of veggies that have the ability to cleanse the body and fill it with important nutrients. The roll is made from rice paper that has very few calories while still giving the feeling of eating a regular wrap.
Farinacci believes that the unique style of food offered at Daboros provided people with new opportunities.
Farinacci said, "I always look for fresh vegetables, and Daboros definitely has something to fit everyone's needs like the variety of coffee, juices, smoothies, and more. And I believe it has anything that a person looking to be healthier might need because of the many options."
Many of the workers there are vegan and hope to make an impression on those who are unsure of the benefits and costs of changing their eating habits.
Griffin has been a vegan for over 20 years now and has witnessed the numerous benefits that come from a plant based diet. Griffin said, "I started being vegetarian as an animal rights activist, but then I realized how good I felt, so I just kept taking it a bit further. I felt that my body was better off vegan."
Farinacci also proclaims the benefits of being vegan and expresses the wonders of healthy eating. She said, "I went vegan for animal rights and then I learned how it can prevent and cure so many diseases as well."
Daboros makes it their mission to inform people about the importance of clean eating with motivational messages listed around the store.
The food is supplied by companies that ensure the highest quality and mot natural foods. Griffin said, "A lot of the healthy produce comes from Ame's farm that is not spayed and is grown naturally. Our produce supplier is really good at notifying us about recalls and foods that may be in our best interest to avoid."
The food is made to give customers a chance to enjoy natural foods that keep them healthy. Griffin said, "Healthy food is qualified as wholesome, nutrient dense produce that fuels the body naturally and provides a great source of energy."