Paralympics need more publicity, recognition
Hang on for a minute...we're trying to find some more stories you might like.
The lack of broadcast towards the Paralympics is completely absurd.
Everyday, disabled and special need athletes put 100% effort into the sport they have much compassion towards just like any healthy athlete- yet their accomplishments simply aren't worth enough money to broadcast nor write about.
Whether a professional athlete is disabled or not, how upsetting would it be if your own family member could not be viewed in all their glory because their accomplishments simply weren't "valuable enough." People all over the world look forward to watching the Olympics yet nobody acknowledges the Paralympics are which is infuriating.
Paralympics are on PBS and running for $14.3 million while the Olympics are put on with a total of $1.8 billion. Yes, billion, not million. Nobody seems to find a reasonable excuse for why this is the case.
There is no justification..not one.
Jasper Wilson of Pittsburgh News wrote, "Unfortunately I don't know of anyone under the age of 50 who watches PBS regularly. So their efforts probably didn't have the effect that it should have. Channels dedicated to sports need to take on broadcasting the Paralympics, but they have yet to do so."
Yes, PBS showed interest in broadcasting the Paralympics but it is still nauseating.
PBS doesn't even get views by athletes, so what's the point?
There is no point.
Kathleen Morgan, is a special needs teacher who has witnessed plenty of unequal treatment when it comes to disabled and special needs students. Morgan said, "Sadly, the networks can not make as much money covering the games because there are fewer superstars, less endorsements, fewer spokes people and that equals less coverage. The Paralympics need a Michael Phelps level performer to spark interest from fans in order to drive the revenue needed."
It's really just cruel and disrespectful to not broadcast a major event that has lots of meaning to people competing in it.
Christian D'Andrea of The Tartan News in Pittsburgh, Pennsylvania explains, that these broadcasters have no excuses to hide behind the fact that they do not want to buy the event. D'Andrea wrote, "The Paralympics offer endless storylines, most of them more interesting than those in the real Olympic Games. With a steadily increasing level of competition across Paralympic sports, it is no longer viable to say that these events aren't exciting enough to present on television."
Morgan said, "I know the Paralympics are world class athletes that perform amazing athletic wise and they deserve more extensive coverage in the media in order to provide a wider audience. More exposure will recruit more viewers and secure a higher revenues which will make the Paralympics more equal to the Olympics."
Although Broadcasters and News Writers are trying to include as much as the event as possible, it simply is not enough. Wilson wrote, "The channel had four live-streaming channels of competition, but often showed the same events on multiple channels. With the Paralympics encompassing 20 sports, that approach doesn't seem right."
Morgan said, "I would love to see the Paralympics get more coverage much like the Olympic Games. Countries should promote all their athletes and celebrities should host the games so that audiences would get a chance to watch amazing athletic performances."
It is outrageous, disrespectful and mind boggling that the Paralympics aren't broadcasted and there needs to be a change immediately.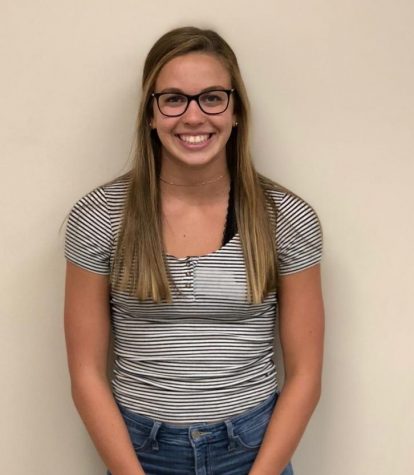 Emily Steffey, Staff Writer
Emily Steffey is a staff member of The Paw Print.

Steffey is a junior involved in Girls Varsity Swimming. She enjoys being with her teammates and going...