Hidden cafe in Kent serves fresh, handcrafted donuts
Hang on for a minute...we're trying to find some more stories you might like.
If you're strolling down the quaint streets of Downtown Kent looking for a quick bite that allows you to watch your creation appear right before your eyes, then Peace, Love, and Little Donuts is just the shop for you.
This cafe is unique because it allows you to choose your own flavor of donuts and watch as they are iced and topped right in front of you.
When you walk through the glass door, your eyes can feast upon the rows of tiny donuts that are all unique with their psychedelic icing and uncommon flavors.
Upon my arrival, I was kindly greeted by the barista who was ready to fulfill my donut needs. On an early January Monday, the store was empty, unlike its busier hours later in the day where there is usually a long line to get a glance at these happy donuts.
My mind was boggled as I stared at the dozens of flavors to choose from.
There are "Groovy" donuts, which are more simple with a regular maple, or powdered sugar glaze. Then there are "Far Out" flavors that are more unusual, featuring banana, orange, mocha, and more. Lastly, there are "Funkadelic" donuts that have frosting, plus crazy toppings that make-up their most outrageous flavors like Maple Bacon, Apple Pie, Elvis, Raspberry Lemonade, and many other choices.
I was immediately overwhelmed with excitement and anticipation as I was lost in a whole new world of donuts galore.
It may take one a long time to make up their mind because the flavors are all so enticing.
I eventually chose a half dozen which contained Creme Brulee, Samosa, Key Lime Pie, Oreo Cheesecake, Cinnamon Roll, and PB&J.
As I gawked at the freshly made, warm donuts. The friendly barista hand-frosted each one and gently added the wonderful toppings.
A half dozen was only $8.00 and was well worth my money. The entire experience was fun and thrilling. By choosing my own flavors, I felt apart of the process and made the treat more personal.
I give Peace, Love, and Little Donuts, 10 out of 10 peace signs for wonderful service, impressive flavors, and mad decorating skills.
This groovy donut shop will fill all of your hippy needs and I highly recommend stopping by whenever you are in the are.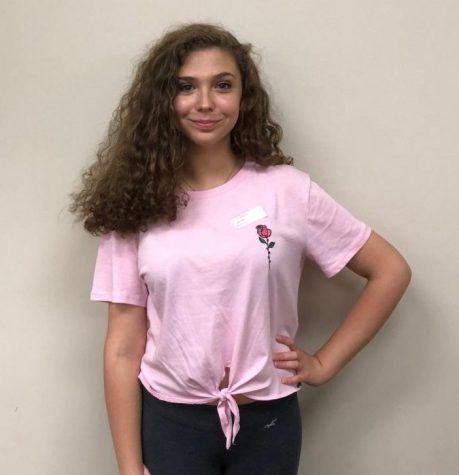 Christina Rufo, Staff Writer
Christina Rufo is a junior and frequent writer for The Paw Print.

This is Christina's second year writing on staff, and her passion is news writing....