Sophomores helped contribute to homecoming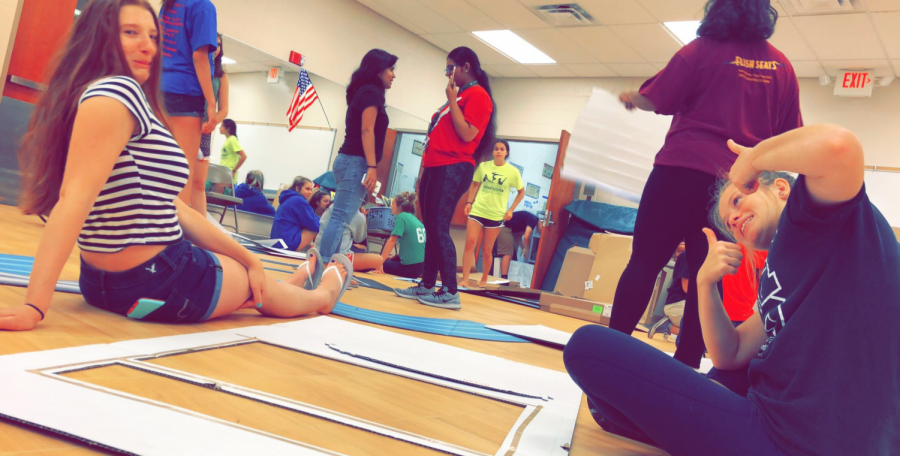 The sophomore student council was prepared for another homecoming this year.
Sophomore class adviser Lacy Long-Goldberg thinks the sophomore student council was involved in the preparation of homecoming. She said, "The sophomores are partially responsible for decorating. They participate in all night decorating and they're also responsible for creating a float and throwing out candy at the parade.
This year the students chose the theme A Blast From the Past. "I think that I like it better than last year's theme: A Night in Crazy Town. I didn't really understand that. I think this is a theme that is clearer in what it represents as well as it could be fun for girls or guys to dress up in more of old fashioned outfits, so I think it is a cute theme," Long-Goldberg said.
Johnny Gaudio sophomore class president also likes the "Blast from the Past" theme. "For the assembly, we'll make the backdrop on the far side of the gym. For the dance they usually just bring the backdrop up to halfway and use that half of the gym for the dancing. And the senior commons will be decorated with streamers on the ceilings and railings. It's all a diner theme, there are alot things you would see in a 50s movie," Gaudio said.
Long-Goldberg thinks there are many important decisions that must be made for homecoming to succeed, one big one being the theme.
"Typically we just brainstorm as a group and then once a variety of ideas have been brainstormed, we decide what is feasible, what the most people want to do and how we can make it work," Long-Goldberg said.
Homecoming decorating started in July this summer. "Head council is in charge of them. Patriva Reddy (head council president) will send out a reminder text and say, 'hey there is homecoming decorating at this time.' Each delegate and officer is required to go to at least two to help set up but you can always go to more. The last decorating is Thursday the 13th it's a process," Gaudio said.
Sophomore Spirit Coordinator Emma Elliot enjoys the summer decorating. I think it's a good way to get things done in time for homecoming without being super stressed about the deadline," Elliot said.
During the school year most preparations occur after school. "Decorations are usually couple of hours minimum, so that we can get a good amount of preparations done, each day," Elliot said.
There are many different events that take place during homecoming week. One of which is the homecoming parade. She said before the parade, "We are still determining our theme for the sophomore float, but it has been narrowed down to the 'Blast from the Past' theme. With maybe some old fashioned waiters or waitresses. There was talk of roller skating, so maybe like a 50s style, diner theme. Or, the students also mentioned hippies so maybe a 60s theme. I think we're going to do a decades theme but were not exactly sure yet."
All of these events contribute to a big, busy week. "It can be stressful but it's also really fun decorating and participating with my friends," Elliot said.
Long-Goldberg thinks homecoming is something many students and teachers look forward to. " I just really love the spirit of homecoming. I think it is a great way to get everyone in the school excited and it brings the community together, to celebrate Mayfield and what makes Mayfield special, so I just think it is a wonderful way to show Mayfield pride," Long-Goldberg said.