Halloween brings parties, costumes, fun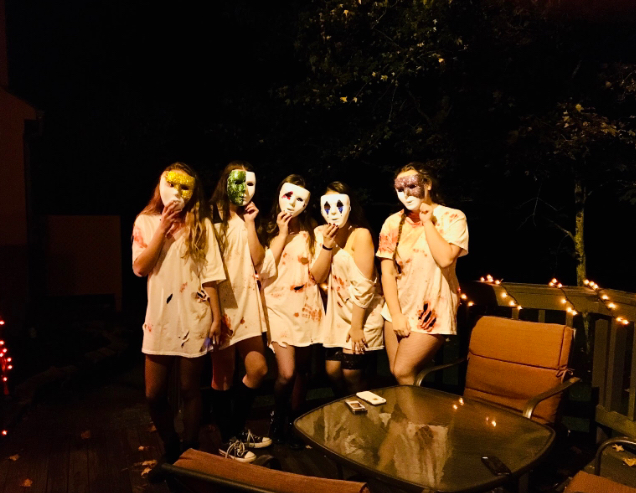 With Halloween coming up, Mayfield students and faculty are getting into the spooky spirit by planning parties, trick or treating, and costume making.
Junior Jordan Watson is planning her annual Halloween party to continue her weekend long holiday plans that carry over from Halloweekends to a decked out party at her house.
Watson said, "We always go to Halloweekends and get Fast Passes for the day, and then we throw our party. We invite a ton of people, and it's just crazy fun."
Watson's family spends around two months decorating the house from top-to-bottom. Her mother's boyfriend makes a special party playlist with Halloween themed music.
Watson also explained that her family makes a haunted house in the basement, which goes through her room.
She said, "At the party, we make sure that everyone dresses up, and you aren't allowed in unless you're wearing a costume. And my mom makes festive drinks that have eyeballs in them made with lychee, blueberries, and raspberry jam."
Not only are students planning parties, but some are planning to wear a matching costume with someone else.
Junior Anna Blum said, "My boyfriend and I are going as Harley Quinn and the Joker. I am using my black and gold homecoming dress because we are matching the scene fro the club in 'Suicide Squad'."
Blum isn't the only one with a specially planned costume. Watson said, "For the party, a bunch of my friends and I are going as boxers, and last year, we all went as people from the Purge."
Trick-or-treating is also on the list of things to do, as teenagers plan their evenings.
Blum said, "On Halloween, I am going to hang out with my sister and go trick-or-treating as usual."
She and her sister go around the Golden Gate area, and she thinks people are happy to see that teens still enjoy the holiday and are doing something safe within the community.
Not only are students getting ready for the holiday, but faculty members are too.
English teacher John Sullivan has plans to pass out candy on Halloween night while his wife takes the children out trick-or-treating.
In regards to other Halloween events, Sullivan said, "We're going to a Halloween party this weekend. My wife is dressing up as Cleopatra, and I will be a Roman soldier. The kids will also be little soldiers."
There are some mixed emotions this year among students and teachers on whether high schoolers should go out trick-or-treating.
Watson said, "I don't go out anymore because most of the time I'm just tired and have a ton of homework, plus it's cold out."
However, Sullivan believes students should be allowed to still trick-or-treat, even if they are in high school.
Blum suggested the time spent with friends and family create long lasting traditions.
"My sister and I have had a tradition for a long time, where we count all of our candy and brag about who has the most, and after we finish, we trade it with each other," she said.
The holiday allows others to enjoy themselves in many different ways that work for each individual- dressing up, decorating, trick or treating, or even going to a costume party.
Watson said, "I love the decorations and the fun you can have. I love the spooky season."