Wildcat Focus mentors celebrate with CEVEC alumni, students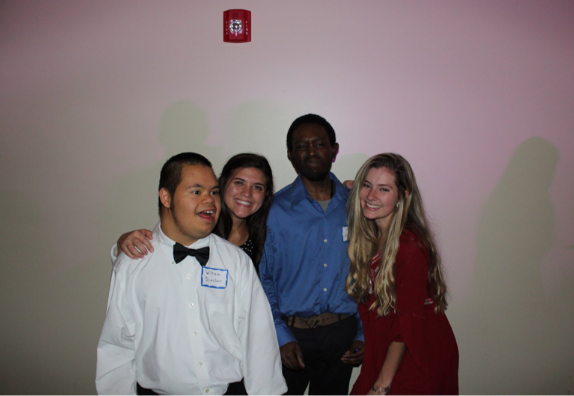 Hang on for a minute...we're trying to find some more stories you might like.
On Oct. 25, a dozen Wildcat Focus mentors went to the Hilton Garden Inn to enjoy a dinner dance with past and present CEVEC students.
The mentors said they had the privilege to have discussions with the CEVEC students and staff at their assigned tables and meet new people.
Also, the mentors would pass out drinks and help some of the students cut up their meals and dance with them.
Junior Bobby Zajec is a first year Focus mentor who volunteered for this event and was confident going into it.
Zajec said, "I expected to help out at the event and make sure the CEVEC students had a good time. I expected to have a good time, but I had an even better time than I thought. It was a blast volunteering at the event."
There was excitement about running the event from Zajec, but the nerves did hit some of the mentors due to the new people they would have to encounter.
Senior Jenna Hays joined Zajec in the event but didn't feel as open with the idea.
Hays said, "I was a little nervous because I didn't know what to expect. I know some of the kids from the school, but knowing over 300 people would be in attendance was overwhelming; but, I was also extremely excited to be a part of this event."
Through all of the nerves and excitement of the mentors, the celebration touched them personally.
Zajec said, "Personally, it made me aware that everyone is a human being and just like to have fun and be with friends. I can't say enough how much fun I've had and how I can't wait to fo back to this event next year. I truly had a blast."
The varying environments also allowed the mentors to meet and be interested in new people.
Senior Vladis Alimova gladly participated in this event.
Alimova said, "I really love going to dances because I get to meet so many new people and have fun with them. It's such a great opportunity to be with all of them there."
Hays also appreciated all the new people she was able to meet.
She said, "It makes me realize how fun things can be. I had a blast dancing with all of the new people I had met that night, and I didn't know half of them."
As the night went on the mentors said they were very impressed by how it was set up.
Zajec said, "The event was very well ran. The check in process was very smooth and the CEVEC staff did a great job helping out everyone there and making sure everything ran as planned."
Hays agreed with Zajec and said, "I think it is an extremely well ran event. Everyone seemed to have a great time with their friends, and it seemed to me like everything ran smoothly."
Alimova said, "Yes, I really had the time of my life and wouldn't miss a chance do be there. I love being around people and spreading the happiness that they show."
The dinner and dance pleased most if not all mentors who attended.
Hays said, "I loved my time there. It gave me a chance to get out of my comfort zone and have fun with new people. The dance is great way to get to know everyone at CEVEC, as everyone is inviting and ready to party."
Looking towards the future, the mentors see no reason to why this event wouldn't be a volunteering opportunity.
Hays said, "It was an incredible opportunity to volunteer and have a little fun during the week with other focus mentors as well as students."