Cross country coach not limited to being a fall athlete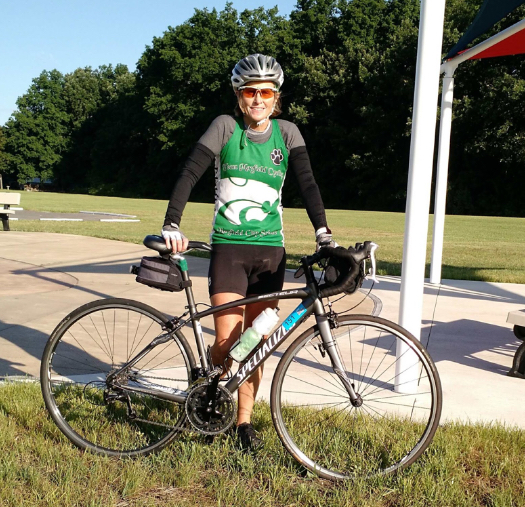 Many say cross country coaches and spectators run just as much as the athletes.
But that is no challenge for the girls cross country coach Polly Canfield. Canfield spends her summers training for a distance bike ride at the end of each summer.
Canfield is very busy as high school science teacher and the girls varsity cross country coach. "A lot of the people I ride with who aren't teachers, ride almost every Tuesday (weather permitting) and then shut down for the winter months; but, I am strictly a summer biker. "Once the Buckeye Breakaway race is over, I literally flip my bike over upside down because the next weekend cross country begins," Canfield said.
Canfield spends her summers away from school preparing for the Buckeye Breakaway race at the end of the summer. "Our training rides are typically, about four hours and we go 40-50 miles. We often stop chit chat, use the restroom, get some water, eat a snack and then continue. It's a real leisure ride," Canfield said
Buckeye Breakaway is an annual distance bike race, stretching across the state of Ohio, with all proceeds going to charity. "My longest ride was Buckeye Breakaway. It should've take place from Berea to Sandusky but there was
a detor. Instead of 75 miles but it ended up being three extra miles," Canfield said.
Varsity cross country runner Sophia Woods can't imagine going on a bike ride that far. "Oh God no, I wouldn't ride that far! I ride a bike to travel somewhere, not to exercise, if i needed to go somewhere that is 75 miles away I would drive!" Woods said.
Canfield and her cycling group have raised over $100,000 since the year 2000, all benefiting charities for multiple sclerosis and diabetes.
Just because the bike is flipped over and the snow is falling doesn't mean Canfield can catch a break. "For me it comes down to cross training. Luckily we have Wildcat Sport and Fitness here at Mayfield and I live in the community here, so, I have the option of a treadmill, elliptical, or a rowing machine to keep my fitness in check," Canfield said.
Woods thinks that her cycling abilities characterize her as a human. " Her ability to keep riding for so long shows her perseverance and her mental ability to keep going, which is very important in athletics," Woods said.
Canfield has a hard time choosing whether she prefers running or biking. "That's a tough one. I don't think I can choose, especially because I'm not in great shape. I get to see so much more of Ohio on our bike rides where on a run I'm limited to maybe the five miles I can get done, but biking I can accomplish and see so much more," Canfield said.
Cross country state-qualifier Valerie Sague doesn't mind that her coach isn't always running. "I dont think its weird that she enjoys cycling, sometimes, even more than running because cross country is not the only sport shes coached," Sague said.
In fact, Sague thinks that her love for cycling makes her a better coach. "I think biking makes her a better [cross country] coach because it gives her another perspective on sports. It demonstrates the work that must be put in to achieve your goals," Sague said.