Bibibop serves a unique style of Asian take out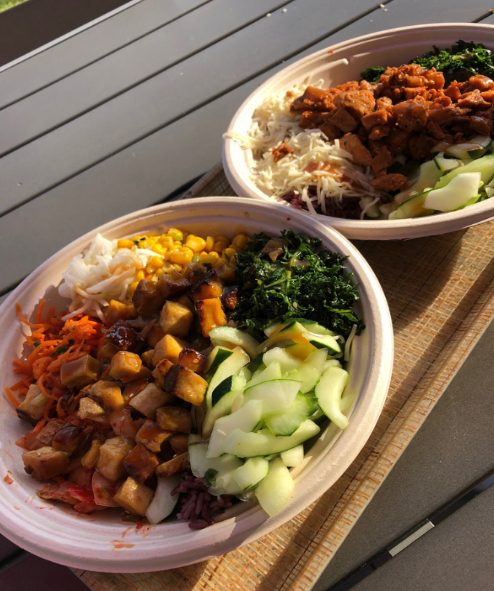 If you're in the mood for quick and healthy takeout, Bibibop Asian Grill located at Pinecrest shopping center is the place for you.
With its unique take on Asian Fusion, Bibibop offers a wide variety of customizable meals that are made to order as you go through the line.
Upon my arrival, I waited in the moderately short line, but the new restaurant is usually packed.
I began my order, but first had to choose how I would like my food prepared. My choices included a rice or noodle bowl, a salad, or a roll. You can begin with your choice of purple rice, white rice, or soba noodles.
The meals are very inexpensive, ranging between $6.79 – $7.29 depending on which protein you choose. Bibibop offers tofu for vegetarians, as well as steak, spicy chicken, or regular chicken.
My bowl, made with purple rice, an exciting ingredient that is hard to find anywhere else, was warm and filled with fresh vegetables.
You can limit the amount of sauce and rice, creating a healthy option for takeout, while also getting a satisfying meal.
Junior Julia Montani likes the idea of healthier fast food. She said, "I love being able to pick out my own vegetables. It's hard to find restaurants that cater to your needs."
I had ordered a rice bowl and added bean sprouts, cucumber, kale, corn, carrots, daikon radish, and extra lettuce. My total came out to $6.79, while my boyfriend's bowl was $7.29 since he added the spicy chicken.
Junior Catherine Rock enjoys going to Bibibop with her friends. She said, "I like that you can choose everything you want in your bowl, and there aren't any certain limitations."
Not only does Bibibop offer a wide variety of choices on the front line, they also include free, unlimited sauces. The line of sauces located in the middle of the restaurant include: cucumber wasabi, sesame ginger, teriyaki, Korean red, and yum yum sauce.
You can feel free to mix them all together, or create your own combinations.
My sauce of choice is the sesame ginger, which is sweet and savory, but in my opinion, the cucumber wasabi works wonders because it complement the rice with its creamy, tangy taste.
Junior Niyah Dejohn likes being able to create her own bowl. She said, "I don't really like vegetables, but the way that they put them in the bowl mixed with the rice makes them taste really good, especially with the teriyaki sauce."
For those who like to have multiple courses, Bibibop also has free miso soup that you can add to any meal. I highly recommend the miso soup because it is never ending and free, which is hard to find at most restaurants around town.
I always get the miso soup because it adds warmth and new textures to my meal. The soup is very light and contains only small pieces of tofu and scallions.
Rock said, "The food at Bibibop is different than anything I've had before."
When ordering beverages, there is a great selection of soft drinks that you can mix. Some of the choices include mango, black cherry, raspberry, and other original options.
Bibibop also makes their own bubble tea that can be ordered at a separate corner of the building.
The tea, otherwise known as Bibitea, includes various fruit and milk teas. Additionally, you can choose the flavor of your bubbles, such as: original, strawberry, blueberry, green apple, and mango.
They also offer almond and soy milk for those who are vegan or lactose intolerant.
When I had ordered my taro milk tea ($5.00) with blueberry bubbles, I was also able to adjust the sweetness to my liking. After having tried other milk teas around the city, I would have to say that Bibibop has the most choices in terms of flavor, milk, and sweetness.
The layout of the restaurant is seat-yourself style, and it includes community seating for larger groups. The color scheme is a bright orange and gray with an industrial ceiling.
Both Rock and Dejohn described Bibibop as a healthier and better Chipotle.
Compared to Chipotle, Bibibop offers a wider variety of meals for all types of people, and is warm and inviting with their free sauce and soup bar.
The service is much faster than Chipotle, and the servers are much more pleasant to talk to
Although the restaurant is full of amazing features, I would like to see more seating due to the large crowds that pack the restaurant every night. Sometimes it can be difficult to find an open table, especially when the outdoor seating is closed.
For a unique take on Asian cuisine, come to Bibibop in the afternoon to beat the dinner time rush. The price is low for such high-quality ingredients that are worth the extra wait in line.
I give Bibibop a five out a five chopsticks. I highly recommend this restaurant to anyone looking to spice up their average takeout routine. I hope you all give it a try.
Bibibop

Address: 511 Park Ave #149, Beachwood, OH 44122

Phone: (216) 417-0274

Website: www.bibibop.com

Price: Moderately inexpensive

Food Type: Fast-paced Asian grill

Rating: 5 stars – high recommendation for people of all ages