Students audition for this year's musical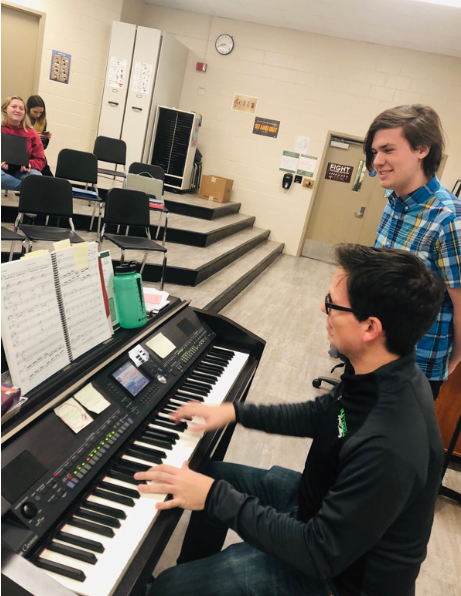 This year's musical auditions for "Shrek" took place after school on Monday, Dec. 10 in the choir room.
Although the musical production is being led by the same directors, Larry Braun and Brian Fancher, auditions were slightly altered this year.
Fancher took part in making the ultimate decision to hold auditions differently than in the past.
Previously, auditions were held on two separate days at 6:00 p.m, and each student needed to prepare a song of their choice.
After the singing portion of the auditions, all would head to the auditorium and learn a dance to perform in small groups.
Fancher said, "This year, auditions are on the same day because it is just practical, in that it is usually so crazy busy around this time, and it was hard to find two pairs of nights where we could get to work out."
Students were also given a list of songs from the musical set to perform for their audition.
Fancher said, "A lot of times, people get very nervous about choosing what song to sing, so having options to choose from really helps. We want to hear everybody follow an accompaniment well."
Not only was the audition setup changed, but there was also an additional workshop before auditions to allow students get a feel for the songs and choreography.
Junior Jordan Watson has participated in the musical the past two years.
Watson said, "I like that we were taught the dance [earlier during the workshop] because those who went to the workshop have an advantage over those who did not go."
According to Fancher, it was better to hold auditions on the same day because it speeds up the decision-making process.
Fancher said, "That way, when we sit down for callbacks, it is fresh in our mind because we had everybody all in that same day."
The workshop was packed with students, which does not include all those who intend to audition but could not attend.
Senior Nathan Muhlbach has been apart of the musical every year and was the lead in last years production of "The Little Mermaid."
Muhlbach said, "The workshop was super convenient because you were able to hear the songs they were expecting, and you get more time to practice the song and dance to be as prepared as possible."
In terms of what the directors were looking for at the audition, Fancher said, "We honestly want someone who has a balance of theatrical talents. Because in musical theater, you have singing, dancing, and acting."
Muhlbach said before auditions, "This year I am nervous for the competition because there are so many who are trying for the lead as 'Shrek'."