Q&A: English teacher starts to renovate new home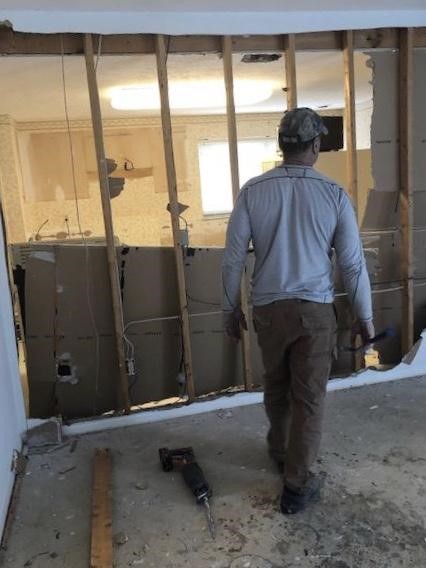 Hang on for a minute...we're trying to find some more stories you might like.
In an exclusive interview, The Paw Print's Kyra Horvat sat down with Mrs. Ferritto about her on-going project to renovate her newly purchased condominium.
Kyra: So, you've mentioned that you recently bought a new house. When did you buy your new house?
Ferritto: We bought our new house at the beginning of February.
Kyra: Have you started to move out of your apartment Downtown?
Ferritto: We haven't done that yet. That's one of the things that will be on the list to do this summer or toward the end of the school year.
Kyra: Ah okay, that makes sense due to time. What has been the most difficult part of it?
Ferritto: The most difficult part of it has been getting there to work on it in the evening, so that we're not living in two places at once. So, we've been out there till like 10 or 11 o'clock, and going home and trying to get up and function.
Kyra: Sounds rough. How much of the new house is being renovated?
Ferritto: Nothing on the outside because it's a condo, so the condo association takes care of all the outside stuff, but pretty much everything on the inside. We're doing new bathrooms, new kitchen, all new floors, and all new paint.
Kyra: That's a lot! How much time are you and your husband spending working on it?
Ferritto: We try and do about two hours everyday, and then we do it pretty much all day on the weekends.
Kyra: Do you think the summer weather is going to help or hurt your ability to work on the house and move out?
Ferritto: I think it'll help it. It'll be great because then I can do last minute things like painting doors in the basement outside, and let it dry out in the sun- once there is sun. So it should hopefully be good, so the hopefully it'll be easier to move out of downtown without getting anything wet or salty.
Kyra: I hope there's no rain this summer. What's your favorite part of moving and renovating?
Ferritto: My favorite part of renovating is picking out all the colors and carpets and the floors. It's fun.
Kyra: After making renovations, what room in your house are you most excited for to see finished and to have and spend time in?
Ferritto: I'm most excited to see our living room, because we put in new floors, we're recovering our fireplace, and we're gonna get a new mantle, and I just think it's gonna look really good.
Kyra: I'm guessing you're gonna be spending a lot of time in there.
Ferritto: Yes, that'll be where we spend the most time.
Kyra: Does your house have a big backyard?
Ferritto: It has a really small backyard, but because we're in a condo we get to use a pool, that's part of our association, and we also get tennis courts and a basketball hoop. And it's also great because we don't have to take care of any of it; we just get to use it.
Kyra: You seem super excited about that, and I can see why.
Ferritto: Yeah!
Kyra: Are you planning on doing lots of work over the summer? As I'm guessing you are from a previous answer.
Ferritto: I'll probably do a lot of work, but probably a lot of little things. Like we haven't really made any plans for the basement besides changing the floor and painting. Also, we haven't done a lot with buying furniture and stuff like that, so I'll probably start planning that and looking for ways I can make little fixes around the house, also getting to know neighbors and having fun at my pool.
Kyra: Are you gonna take any furniture from your apartment with you?
Ferritto: Yeah, so we'll take all of our furniture from our apartment. We'll probably be using all of it for a long time, then we'll use some of it in the basement eventually once we pick a new couch and new stuff like that.
Kyra: Has all this renovating been constricting your ability to grade or has it been pretty ineffective?
Ferritto: The grading is going slower, but it still gets done, in a mostly timely manner. I would say I'm not as quick as I usually am, but I'm not letting it stop me from making good content and getting those papers graded.
Kyra: I mean as long as it's mostly getting done. Do you think this house is far from the school, is it gonna affect commute next year?
Ferritto: It's about 20 minutes away, which is about what I'm doing right now, but the beaut will be that I no longer have to park in a parking garage. So I no longer have to walk up the street in the snow and bring boots and dress like I'm going out to the tundra. I can just walk into my garage and hit the road.
Kyra: That sounds like a great plus! Well I hope you enjoy having a new house, and thank you for allowing me to interview you!
Ferritto: No problem!