Teachers, other public workers lose money in pension funds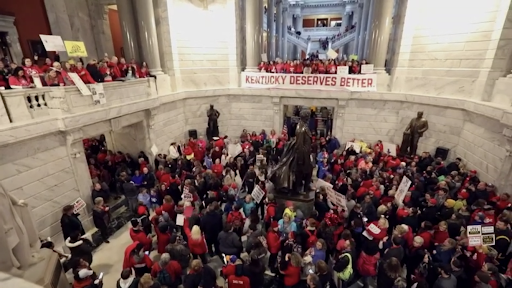 All across America, public workers, especially teachers, are dealing with the struggles of the decline in money available for pension funds.
Many pension programs throughout America are trying to solve this lack of pension fund, by using tax dollars from each state.
In a Frontline video, The Pension Gamble, it quotes another video called Kentucky's Pension Crisis and said, "The bigger the problem becomes, the more tax dollars will be needed to fix it. That means fewer tax dollars being spent in areas of need, like schools or roadways."
Many organizations dealing with pension funds have tried using alternative means of investment. In an article by Fortune author Ryan Derousseau said, "Since 2005, state and local pension plans have sharply increased their exposure to alternative investments, including private equity, real estate and hedge funds, from 9% of portfolios, on average, to 24%."
One major alternate investment is hedge funds. Hedge funds are partnerships between investors involving high risk and complex investments. Derousseau said, "Researchers found a statistical link between investments in hedge funds and an even sharper decline in the portfolio returns."
The amount of money returned affects how much was made to give to pension systems. "The average pension plan returned 6.5% annually from 2005 to 2015, and 9.8% annually from 2010 to 2015. Under-performing by less than a percentage point may not sound like a lot, but it effectively means millions or billions of dollars left on the table for the huge pension plans," said Derousseau.
While it seems like a small percentage, money is not infinite, and these workers are losing money to bad investments. "Hedge funds are known for charging relatively high fees, which makes that under-performance more galling," said Derousseau.
The Kentucky Retirement System (KRS) is a board of trustees and retirees who make decisions about what to do with Kentucky's pension and retirement funds. "In 2008, only two members of the board had any investment management experience- and thus $60 billion in the hole," said Martin Smith, a correspondent from Frontline's documentary.
Many of these hedge funds are suggested to boards like the Kentucky Retirement System(KRS) by people known as Placement Agents. John Cheves, a Lexington Herald-Leader in Frontline's documentary, said, "The placement agents were being paid fees so they were compensated very generously for us giving our business to these funds."
Kentucky is one of the varying states in deep debt, and the Kentucky state legislature has not done their job to fix the problem. When legislature met up, they used a sewage bill instead of the pension bill.
"It turns out that they were handed a sewage bill, that they were swapping out anything that had to do with sewers and putting in languages that changed the pension system in Kentucky forever going forward," said Senator Morgan McGarvy from Frontline.
Although many states are different, as shown above, Ohio and Kentucky have similar rules. Marty Mackar, treasurer of Mayfield's teacher union, believes the main cause of Ohio's lack of pension funding is the increase of life expectancy in retirees. He said, "People are living longer so the funding isn't there, so they need to restructure to continuously have more money coming in to pay for people's pensions."
Many states have started to change the teaching rules regarding age and how much pension is received. Teaching Certification.com said, "Teachers must meet the following requirements to receive un-reduced benefits [in Kentucky]: At any age with 27 or more years of service. At age 60 with five or more years of service."
According to Mackar Ohio changed some of the previous rules for teachers in order to get more time lenient with pension funding. He said, "Teachers now have to teach 35 years and have to be 60 years old. Teachers prior only had to work 30 years and then they could retire."
Teaching Certification.com also had information in Ohio's rules. It said, "For the combined plan and the defined benefit plan, you are eligible for retirement when you meet the following qualifications: Any age with 30 years of service credit, Age 55 with 25 years of service credit, or Age 60 with 5 years of service credit."
But as the problem still continues to increase in struggle, laws in each state will also continue to change as well. As Mackar said, "The pension in Ohio for teachers keeps changing."
Pensions change for each person as they get older, so the older you get the more money you receive depending on living adjustments. "Whatever you're making when you first retire, you actually will make more in the long run because they're going to adjust that for the cost of living. That money has to come from somewhere," said Mackar.