Students serve Guatemalan community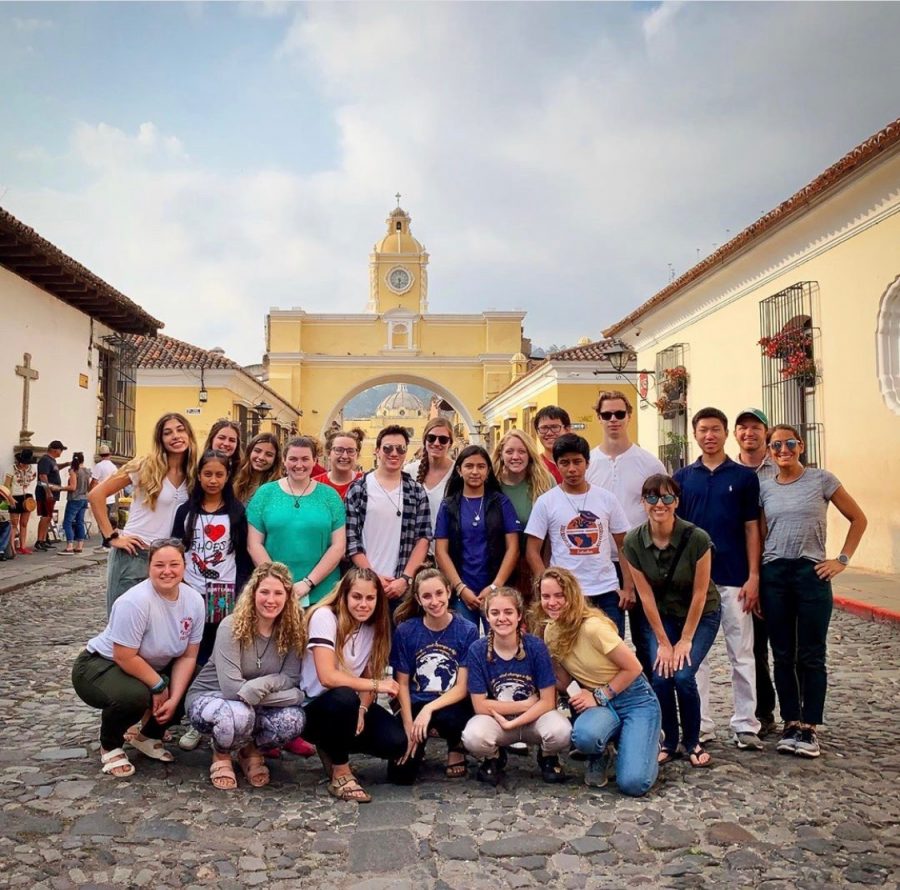 This summer, 17 students and three teachers traveled abroad to Guatemala with a goal of working in solidarity with the Zone 3 garbage dump community.
Bob Friel, who designed the trip, partnered with International Samaritan in hope that all students would feel welcome. "A lot of the other organizations were primarily religion-based and for me, that's not what this trip was about. Regardless of religious affiliation, each student should be able to participate in these trips and not feel uncomfortable."
Friel not only wanted everyone to be welcome on the trip, but also to feel comfortable. "I did a site visit the summer before and I was really comfortable with where we would stay. It was simple but it was also safe and their mission of serving garbage dump communities was in line with a lot of things we are trying to promote here at Mayfield like education in other countries," Friel said
For many students, Guatemala was their first international trip, while others like Brooke Arezone had never traveled to a third-world country. Arezone said, "I was very surprised when we did the home visits the first day. I was not expecting that at all because I had not seen that degree of poverty, especially with the children living there. Also, when the man who welcomed us in was so happy even with nothing, that was something that surprised me."
Naturally, going abroad raised concern for students and parents, including those of senior Allison Laws. Laws said, "I was most worried about safety especially because my parents were worried about that. They put it in my mind that something could happen or I could lose something or something could get stolen but actually it was very safe the place we stayed was very nice and it was honestly just a lot of fun I was never worried about that at all."
The opportunity to travel abroad taught the students valuable life lessons according to Laws. She said, "I think the most important lesson is about materialism, that [material wealth] is not everything. Seeing how grateful these kids are for everything they have and how happy they are spending so much time together really showed how important human connection is versus trying to look cool by having certain things."
Both students and teachers had to overcome various struggles, but each taught them something about the way of life in Guatemala. Friel said, "Working at the construction site [and] building the basketball court was frustrating for me initially because I like being efficient and getting things done and it was so slow moving. We easily could have just brought in a chain saw and start ripping that stuff out but that community never would have that.
"It was important to see the frustrations they go through even to accomplish simple things," Friel said.
International Samaritan designed the trip to show various aspects of life in Guatemala. Friel said, "I think being in the nursery, primary school and after school program was important because we got to see small glimpses of students at different stages of their lives. In the nursery school, the children just wanted people to show them attention and love.
"Knowing that without the presence of the nursery school, they would have been at the garbage dump site or in a shack that is blazing hot, he said. "That was really powerful [to witness]."
Over the course of the trip, students had the opportunity to interact with many of the children in the school. Laws said, "My favorite part of the trip was hanging out with the kids because that's when you see why you are there and who you are doing it for and what the purpose of it is. But my favorite moment was when Juliana [and I] were playing soccer with the kids. Soccer is a universal language like I did not need to speak with them to have fun with them."
Through these interactions with the kids, students had the opportunity to build relationships. Laws said excitedly, "Jefferson! One of my friends, his name was Jefferson, and he spoke pretty basic English, which allowed him to practice his English and my Spanish.
"He came up to me when we were playing soccer for the first time and I saw him throughout the trip, almost every day we were there," Laws said. "We had so much in common that we didn't even know about. He also gave me a mango at the end, that made me really happy."
Beyond the connection students made with the children in the elementary school was another lesson. Friel said, "Being at the elementary school and seeing these students craving these small amounts of attention and learning English and as they got to the upper grades, asking questions about where we are from and even the political aspects of it… they were beginning to form their own attitudes and beliefs being able to be part of that."
Friel plans to take another group of students to Guatemala again in the summer of 2020.