Girls cross country attends 'Gopher' camp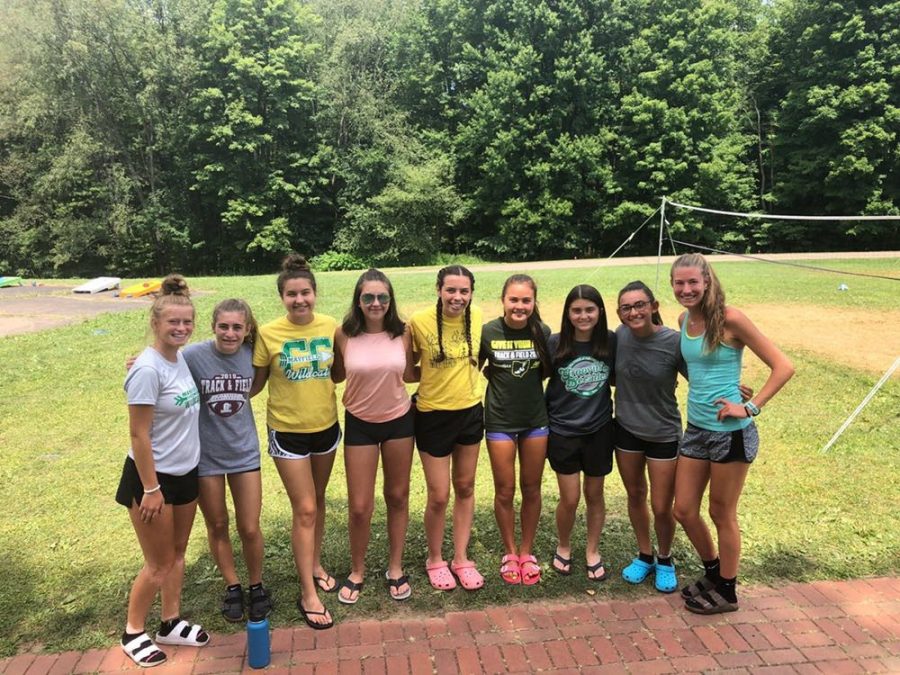 This past summer, nine Lady Wildcats attended the Northeast Ohio "Gopher-a-run" camp. Their days were packed with runs, strengthening workouts, stretching and clinics which provided them with new techniques going into the season.
The varsity girls cross country coach Polly Canfield was excited for the girls to do some team bonding while wrapping up the last few weeks of summer training. "I was a little bit surprised when the girls proposed the idea of camp just because we haven't really done it in the past, but we were familiar that those camps were out there and sometimes individuals would go but it was nice to see that the whole team jumped on board and decided to go this year," Canfield said.
A week prior to the official start of the season, the girls set off for the five-night sleep away camp in Templed Hills (Bellville), Oh. Canfield said, "The camp was absolutely a good start to the season. Actually, the camp was a week before the start of the season so it got the nine girls going to the camp started on that team building that isn't necessarily always there and gave them the opportunity to train a little harder than the might have over the summer."
The exclusive location of the camp provided the girls with a change of scenery from North Chagrin Reservation, where they practice daily. Junior Sophia Woods said, "I loved running in a new location because at practice we always run to the same few places which can get really boring. Also at camp, we ran on the road/ pavement rather than the trails and I realized that I like running on the pavement a lot better than running on the trails."
The camp counselors' accomplishments helped standout varsity runner Valerie Sague put trust in their processes. Sague said, "The staff was made up of some of the top collegiate runners in the country and they explained how and why certain running related things worked for them. Their successful stories proved their credibility."
Sague thought that camp provided a lot more than just two workouts during the day. "The clinics helped me prepare mentally for the season because they gave us a lot of help focused on the psychological side of running which is often overlooked. They also taught us strategies on how to run a race correctly and how to run hills," Sague said
Similarly, one strategy that stuck out to Woods was how to run uphill. Woods said "At camp we learned how, rather than attacking hills, you should start out slow on the hills and while you opponents are getting tired as they go up the hill, you pick it up. Then, as the hill is over, and it starts to flatten out everyone tends to relax at that part so that's when you really have to go in order to get ahead."
Each athlete that attended the camp brought back new knowledge and techniques that they are implementing into their own routines this season. Woods said, "At camp we learned a lot of new stretches. What I like to do that they taught me at camp is new stretches on how to strengthen your hips which is really important when your running so I like to do that every day after practice."
Daher applied the techniques she learned at camp last week in the Solon Comet Invitational. The junior said, "I used the surging strategy for when you are tired. You are supposed to surge to give you an adrenaline rush and make you hurt less. So basically whenever I got tired, I used this strategy to pass a pack or a person which really helped me motivate myself when I was getting tired."
Although this was the first year the Lady Wildcats attended the NEO camp, the girls have already shown interest in returning next summer. Sague said "I would definitely want to go back because I met up with so many of my old friends from my CYO team and also made a lot of new ones while still making memories with my best friends on my team. Also the workouts/clinics were a great way to get me prepared for the start of the season."