Peace Core hosts fall blood drive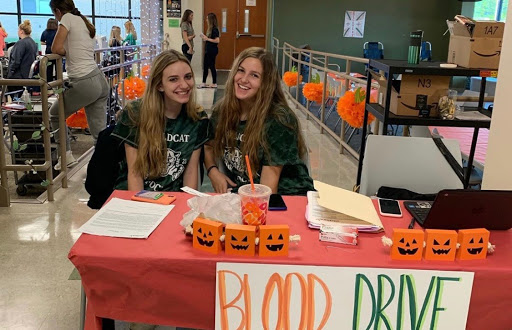 Each year Peace Core hosts blood drives throughout the school year. Last week the club teamed up with Vitalant to donate 60 units of blood to those in the community.
Tina Monastero, Peace Core adviser, thinks the blood drive plays an important role in helping the community. Monastero said, "The importance number one is the fact that with each person that donates were able to save three lives. I think it's important for kids at this age and how powerful it is for them to be able to give somebody the gift of life. It's just an easy thing that they can do that really doesn't take much time or effort from them."
Prior to the drive, Monastero works with Peace Core members including Maddie Sentle to prepare for the event. Sentle said, "The day of the drive we come in at 6am to set up decorations, hang privacy curtains, help the Vitalant workers set up their area, cook breakfast, and set up snack tables and recovery areas for the donors.
Last year Peace Core decided to switch the partner company to Vitalant which takes a more local approach than other companies such as the Red Cross. Sentle said, "Weeks prior to the blood drive we communicate with Vitalant and we go to homerooms and recruit students and teachers to donate. This year we can also recruit people from outside the school as long as they get a visitor pass to come in."
Many students throughout the school donated, each with different motives. Junior Taylor Sabbagh was a donor for the first time, as she said, "My dad was in a really bad accident a few years ago and they had to amputate his leg and blood transfusions saved his life so I wanted to be able to give back and help someone else."
Peace Core always strives to donate the most amount of blood possible at each drive. Monastero said, "we collected 60 units at this drive. We really didn't have a goal in mind or talk about a goal specifically but I was hoping to get a little more than 60. However, being that it was our first drive and we only had a couple weeks to prepare I'm satisfied with the 60 units."
Peace Core will hold two more blood drives this school year. Monastero said, "One is going to be in January and the other is going to be later in the year like late April. We have a lot of kids especially sophomores who are not 16 yet and because you can't donate until your 16 the one later in the year will include more students [who recently had birthdays]. Just wait and be patient and your opportunity to donate will arise. We will be having more blood drives not only this year but in the future, so at some point throughout high school you'll be able to donate if you're willing to."