Environmental club reduces plastic waste, plans sale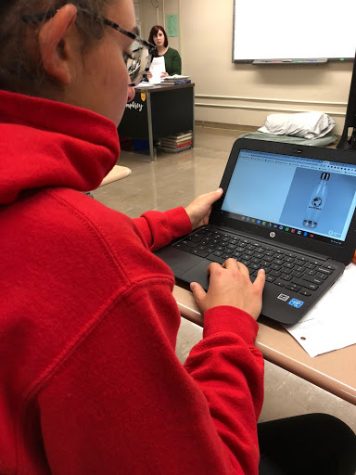 Environmental club is looking for ways to reduce Mayfield's environmental footprint. As a result, the club is planning to sell reusable metal water bottles in hopes to reduce the amount of plastic used.
Club adviser and environmental science teacher Melissa Spigutz realized many students use plastic water bottles which end up getting thrown away. Spigutz said, "In general, things aren't being recycled anymore [because] China no longer wants our recycling, and so more and more things that we think can be recycled aren't making it to a recycling bin or recycling plant and so a better step than recycling anyway (because it's a lot less energy-intensive) is to reuse something."
Environmental club senior Allison Urban has high hopes for the water bottle sale. Urban said, "I hope that a lot of people buy them because clearly the landfills are filling up with plastic, and water bottles are a big part of that; so, I hope we are sending a positive message to reduce the amount of bottles being used."
Spigutz is excited to start selling the bottles. "Hopefully we come up with a consensus on what our design is and what color we want in the next few days and from there we will be selling them around school, at sporting events, and whatever other events pop up," Spigutz said.
Freshman Anthony Brack is also looking forward to the upcoming sale. Brack said, "I would buy a water bottle because I always need a water bottle for football and sports."
Junior Jackie Jablonski likes the idea of the sale but doesn't think she will contribute this year. "I don't think I would buy a water bottle because I already have one that I can use so I really don't need to buy another one."
Urban understands that not everyone is going to buy a water bottle, but hopes they still learn something from Environmental club's intentions. Urban said, "I hope they realize that they do have an impact on the environment no matter how big or small. Every difference we can make to reduce waste has a big impact and as of right now the planet does really need our help."