FUSE Club hosts spirit wear sale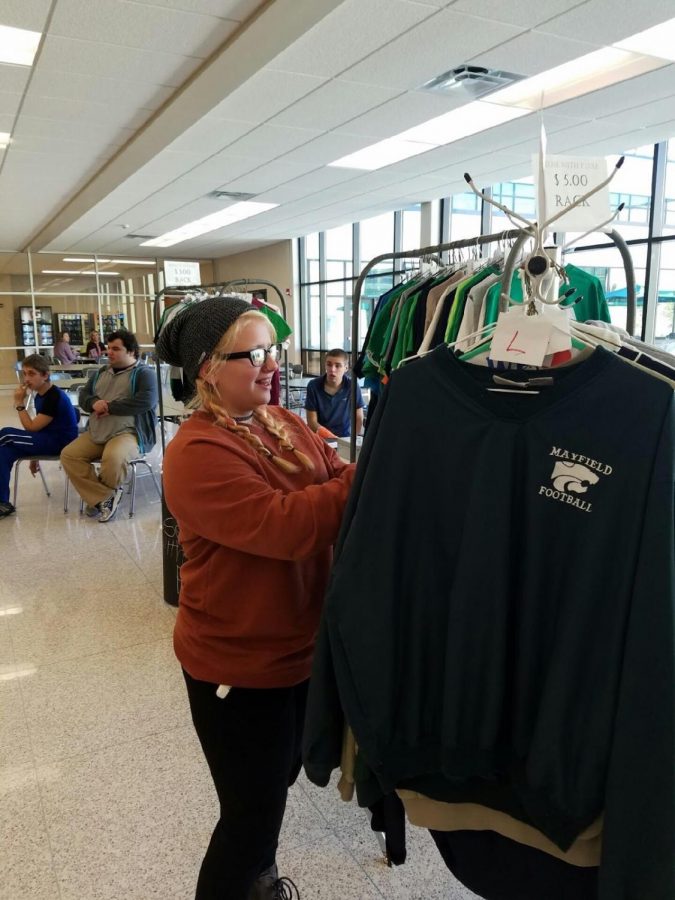 Throughout Homecoming week FUSE Club hosted the Re-use with FUSE drive. Students were asked to donate their unwanted spirit wear, so FUSE Club could wash and resell the items.
Special education teacher and FUSE Club adviser Kathleen Morgan was inspired by students to start this event. Morgan said, "We were looking for a fun, different way to raise money for the club. We thought of Re-use with FUSE when some of our CEVEC students were talking about their experiences working at GoodWill and we thought it was a great idea to collect unwanted spirit wear, practice life skills, and sell it."
The drive teaches special education students life skills such as sorting, washing, drying, hanging and pricing the clothing. Morgan said, "It also teaches them money skills. That's why everything is priced at $2 and $5 because it is easy for our kids to count by twos and fives."
FUSE club is looking forward to seeing all of the students repping their Mayfield gear throughout the week. Morgan said, "Our goal is to sell 100 items during the two-day drive and hopefully have everyone wearing Mayfield swag throughout homecoming week."
Junior Leah Daher thinks the sale is a good idea and is very different than the typical drives here at the high school. Daher said, "The clothes were in good condition and really affordable. I would definitely buy them."
Special Education student Anna Blatt helped sell clothes this week. She reported that she sold a lot of clothes and had fun while doing it. Blatt thinks all of the students should buy from their sale.
Not only does the club help the FUSE students but it also helps make an impact outside of Mayfield. Environmental club member Valerie Sague said, "I think the idea of reselling the clothes is a sustainable and smart way to raise money and help the environment. It's good to see fundraisers that help students and take responsibility for the planet."