'Chicago' debuts this week with three performances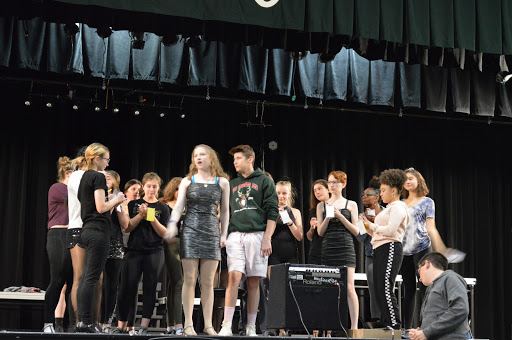 The Mayfield Vocal Music department is preparing for its first fall musical, "Chicago: High School Edition."  Three shows will take place this weekend starting on Thursday.
Director Larry Braun and the rest of the Vocal Music Department decided to have a fall musical as it will bring in more opportunities. He said, "A fall musical could provide additional performance opportunities for students along with continuing to expand our program."
He feels this year was the right time to produce a fall musical thanks to the tremendous support the department is given. He said, "Thank you to Principal Jeff Legan and his amazing team, we could not have done this without their support."
Musical Director Brian Fancher sees all the talent Mayfield has to offer and wanted to use this musical as a great way to showcase it. He said, "We have a lot of amazing, talented students and it's really good to give everybody as much of an opportunity to perform as we can."
Along with performing, Braun feels "Chicago" is giving students a chance to play a major part in the technical side of the musical. He said, "Mayfield High School students are working in all aspects of this show including cast, stage crew, orchestra, hair & makeup, costume & set design/construction, light board & spotlight operators. This is truly a student-run production."
This musical also is giving the department a chance to do a kind of musical never really done before at Mayfield. Fancher said, "['Chicago'] gives us a chance to do things we might not be able to do as our big high budget production. We might be able to do more shows that have sort of a niche audience like 'Chicago'."
Lead Brianna Mosley plays Velma Kelly, the head-turning jazz singer, and Mosley feels "Chicago" has an entirely different set of characters than Mayfield has ever done before.  She said, "While Shrek was filled with characters was filled with fictional characters who were sensitive and easily hurt, Chicago has incredibly realistic characters who have hard hearts with independent actions."
Morgan Beck is the other lead, and she'll play Roxie Hart, the spunky aspiring vaudeville performer on trial. Beck said she enjoys the new maturity this show brings. "Most of the shows I have done in the past have been geared towards a very young audience and it's nice to grow [by] playing a character whose of more maturity," she said.
Though directors, cast, and crew do enjoy the different type of show, Braun has noticed many challenges brought with it. He said, "A few songs were cut from the show along with the removal of some of the stronger content/language. What becomes a challenge is maintaining the integrity of the show, but also providing an experience for the students and the community that is age-appropriate."
This show is inspired by 1920s Chicago and has a Jazz base in every song, and the story itself is very complex. Fancher said, "It's a very compelling show, in that the main characters, the protagonists, are not necessarily the best people but you still kind of want them to win, or maybe not and that's kind of the beauty of it."
The show opens on Thursday, Nov. 14 and continues on Saturday, Nov. 16 and Sunday, Nov. 17. There will be no show on Friday due to the varsity football playoff game. Visit www.mayfieldvocalmusic.org to purchase tickets or to learn more information.