Local restaurant serves authentic Hispanic cuisine
If you are looking for authentic Hispanic dining with an urban atmosphere, Tacologist in University Circle is the place to go.
The restaurant was beautifully decorated with patterned tiles, giving it a traditional Mexican touch. I felt as if I was in the movie Coco which was filmed in Mexico and showcases many aspects of the Hispanic culture. 
From the moment we entered the restaurant, we were welcomed by friendly servers who immediately brought us  delicious chips and salsa. The chips were huge and lightly salted, which paired well with the salsa which had a smooth consistency and was not too chunky like many Mexican restaurants. 
The menu consisted of an abundance of different options, and everyone in the group was satisfied with their selections. The waiter was very accommodating and took note of items that we did not want on our dish. 
I was almost overwhelmed when looking at the menu. I especially had a hard time choosing between the Carne Asada and the Burrito Picante, which both sounded delicious. I ended up choosing the Burrito Picante because the combination of the spicy habanero and savory queso was quite appealing to me.
Junior Valerie Sague follows a vegan diet and was very impressed with the variety of menu items she was able to choose from. Sague said, "I think the options were pretty good because most places only have one vegan item on the menu, but Tacologist had multiple vegan options and made it easy to build your own meal."
Tacologist was unusually empty for a Saturday night. However, with that being said, you would expect very speedy service, but that was not the case. We ended up waiting awhile not only for our meal but also our checks. 
Nonetheless, our food did not disappoint once it came to our table. My burrito was smoking hot with sizzling meats and creamy cheese covering the plate. The dish was both sweet and savory, as anticipated. Between the tender meat and seasoned queso in combination with the sweet Mexican rice, the meal was divine.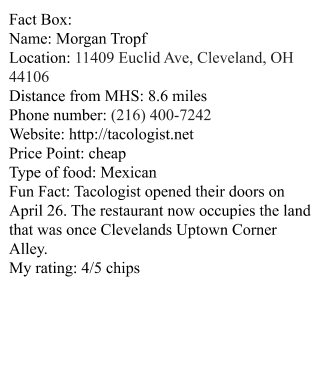 Beneath with the food, was a beautiful blue patterned plate, matching the tiles throughout the restaurant. The burrito had a superb presentation with Mexican rice lining both sides of the burrito and topped with creamy queso and tender chorizo. 
The burrito itself was huge and I was completely stuffed by the time I left. For only $13.50, I received a very satisfying meal.
Senior Brooke Arezone ordered the burrito bowl with a special request. Arezone said,  "I was pretty satisfied with my food. I ordered a bowl and I requested a specific meal and they got my order right, and overall everything tasted really good!"
After careful consideration, I would give Tacologist a rating of 4/5 chips because of the delicious food and interesting atmosphere. The restaurant loses one chip because of the slow service, but overall I had a phenomenal experience and would definitely recommend Tacologist to others.