Mayfield teachers hone in on student wellness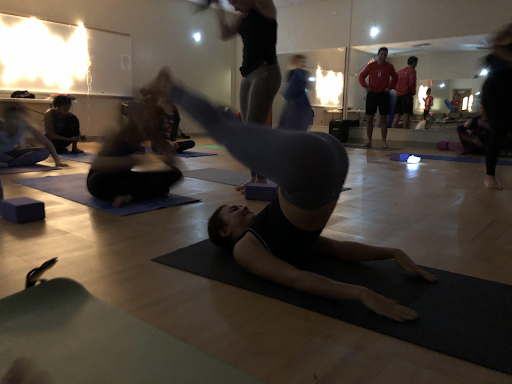 The idea of student wellness has gained popularity among Mayfield students and teachers alike.
Certain teachers have created after-school clubs to increase student wellness in different ways. 
Melissa Sqigutz has used her Yoga Club to provide students with peace of mind. She said, "We are so used to being available all the time now, whether it's through a cell phone or email. Yoga gives us some space to hone in on what's going on within ourselves." 
Similarly, English teacher Abby Ferritto has used her Soul Cycle Club to teach students how to take care of themselves physically so that they will be healthy after high school.
"Some kids aren't in sports, and some kids don't know how to work out outside of their sports teams. So, I thought that it would be cool to show the students that going to a class is a great way to continue exercising during high school or even after high school," she said. 
Other teachers have implemented the idea of increasing student wellness into their everyday classroom activities as well. 
Kari Beery has done daily mindfulness activities during class with her students. She would have students sit up straight, close their eyes, breathe, and think about their goals. She said, "So it's designed for you to root into the moment, take a deep breath, and give yourself permission to let go of the things you are bringing with you and start fresh."
These teachers work to guide their students in more ways than just teaching them an academic principle. 
The yoga instructor believes that it is important to look at more than just the academic aspect of a student's life. Spigutz said, "I think that we need to take care of ourselves. It matters to know how to take care of yourself so that [students] have a skill set when you leave here where it's not just knowing science."
Ferrito works to pay attention to all parts of a student. She said, "I want you to write an essay and I want you rock it out and I want you to pass all of your tests, but I also want you to be a well-rounded individual when it comes down to it."
Beery strives to ensure that all of her kids are able to let go of their stressors. 
"A lot of times when I taught yoga or worked with other teachers that practice mindfulness activities, we have contemplated the idea that students are so caught up in what they are bringing to class with them. It could be stress, it could be stuff from home, it could be anxiety from work, it could be anxiety from expectations," said Beery. 
These teachers' efforts have not gone unnoticed by the student body. 
Morgan Tropf frequently attends Soul Cycle. When she does not attend, it is only because the class has been filled with students eager to learn from Ferritto. Tropf said, "It's getting competitive to sign up on Schoology." 
Soul Cycle has made a positive impact of Tropf's school experience. "It makes school more fun because I am looking forward to it all day and it helps me get closer to teachers and other students throughout the school," said Troph.
Like many, Valerie Sague frequently attends Yoga Club and has noticed the dedication of her instructor. She said, "I am very appreciative of the dedication Spigtuz puts into Yoga Club by leading a free class for us each week. It really shows how much she cares for the students and her passion for yoga." 
Sague has accredited some of her cross country success to Spigutz. "Yoga has improved my wellness by making me more flexible, keeping me away from future injuries when I run. Yoga teaches me how to control my breathing and balance," she said.
Beery's mindfulness activities have also gained popularity among her students. "We did take a survey that asked students what their enjoyment level was. It wasn't surprising but over 80% of the students said that they enjoyed going to class and having that mindfulness structure," said Beery.
Overall the teachers' dedication to the overall well-being of their student has already made an impact on their daily lives, and will hopefully gain even more positive feedback throughout the year.